Join Hafta-Ichi to Research the article "Biden introduces vaccine pledge as US Covid cases soar past 15 million – live | US news"
Last night Idaho public health officials abruptly ended a meeting after the Boise mayor and chief of police said intense protests outside the health department building as well as outside some health officials' homes were threatening public safety.
The request from Boise Mayor Lauren McLean and the Boise Police Department came just a few minutes after one health board member, Ada County Commissioner Diana Lachiondo, tearfully interrupted the online meeting to say she had to rush home from work to be with her son. The board had been expected to vote on a four-county mask mandate in Idaho's most populated region.
"My 12-year-old son is home alone right now and there are protestors banging outside the door," Lachiondo said.
Another board member, family physician Dr. Ted Epperly, said protests were "not under control at my house," as well. Protesters went to at least three board members' homes, the Boise Police Department said.
Hundreds of protesters gathered at the Central District Health parking lot before and during the meeting.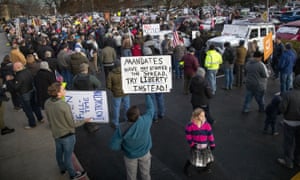 Other groups are supportive of the proposed mask rule though. An organization called the "Pandemic Committee" gathered supportive messages from 600 area residents, putting them on yard signs delivered to the health district building several hours before the meeting was scheduled to begin.
The Associated Press reports that Central District Health Director Russ Duke interrupted the Tuesday meeting to inform board members of the mayor's request.
"I got a call from the mayor, and it sounds like the police, and she is requesting that we stop the meeting at this time because of the intense level of protesters in the parking lot and concern for police safety and staff safety as well as the protesters that are at some of our board members' homes right now," Duke said.
The Boise Police Department later issued a statement on Twitter that said they requested the meeting adjourn "in the interest of public safety."
Idaho Gov. Brad Little has repeatedly urged Idahoans to wear masks but has declined to issue a statewide mask mandate, instead leaving that decision in the hands of the regional health boards. He condemned the protestors' actions at the board members' homes.
The governor's statewide orders require physical distancing at gatherings, limit public and private gatherings to 10 people (except for religious or political events), require patrons to be seated at bars and restaurants and require masks at long term-care facilities.
Last week, regional hospital officials warned that they were so overwhelmed by high numbers of coronavirus patients and by health care staffers unable to work because they are sick that the state could be forced to implement "crisis standards of care" within the next month. Crisis standards of care are designed to ensure that the patients most likely to survive Covid-19 are given access to potentially life-saving treatment when there isn't enough to go around.
The Idaho Department of Health and Welfare reports that at least 113,905 Idaho residents have been infected with the virus so far, including 2,012 new cases reported on Tuesday. So far at least 1,074 residents have died from Covid-19.
Hafta Ichi
Source: The Guardian
Keyword: Biden introduces vaccine pledge as US Covid cases soar past 15 million – live | US news