Join Hafta-Ichi to Research the article "Big breakfasts and latte art: cafe culture returns to post-lockdown Melbourne | Melbourne"
As barista Hayley Kim wound up the large canopy outside Leroy's cafe in the early hours of Wednesday morning, a man walked pasts, smiling under his mask and said "hooray!" pumping his fist just a little as he rushed to the 96 tram on Acland St.
It's a feeling that many Melburnians shared on Wednesday morning, as their city's beloved cafes opened their doors to seating customers.
"I'm excited and I'm nervous … I haven't served a coffee in a real cup in more than six months. I haven't done latte art in so long," Kim said.
"I didn't actually watch the Andrew's announcement because I was working but customers start turning up and telling us 'oh my god you can reopen, you can reopen'. I was like 'oh thank god'!"
"Are you feeling confident?" Kim jokingly shouted to manager Jade Slabber as she rushed around the cafe getting ready. "I believe in you!"
Slabber wasn't been able to fully staff the cafe with only a day's notice, but said she was excited nonetheless.
"That will go to show we can't take the simple things for granted," she quipped back to her barista.
On Monday, the premier, Daniel Andrews, got up on stage and made the long-awaited announcement that after recording zero cases, and containing several widespread outbreaks, that Melbourne was finally opening up.
There has been plenty of talk about "getting on the beers" on Wednesday night, but of course, first comes "getting on the long blacks" in the morning.
Technically Leroy's doesn't open for seated customers until 8am but Martin Wells and Craig Murphey sneaked in early, taking their takeaway cups and sitting at on the newly set up outdoor tables.
"I wonder if this is what bears feel like when they wake up from hibernation," Wells joked.
"Yes," replied Murphy, "And they go fill themselves up on pub food."
The pair rode their bikes here from Hamptom, keen to support the cafe.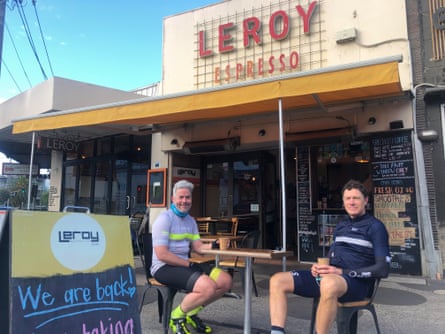 Martin Wells and Craig Murphy outside Leroy Espresso in Melbourne.

Photograph: Matilda Boseley/The Guardian
"It really does feel like waking up," said Murphy. "It feels like we have all been in a long, long slumber."
Both said they were most excited to "scratch an itch" and finally head to Bunnings after their breakfast.
"Everyone's faces there will just be full of smiles I'm sure," said Wells.
A few doors down, some of the first cafe customers in Melbourne sat down, at the stroke of 7am, at the Abby Road cafe.
Bill Hardge said he woke up extra early to ensure he was the first customer this morning.
"It just makes me feel like a Melburnian again," he said in a Texas accent that hasn't faded in the 27 years he has live in Australia.
"We really took tables for granted, I'm so happy to be able to sit down and just enjoy my breakfast."
Greg, Garry, Micheal, Nigel and the rest of their cycling group wasted no time getting a latte after their morning ride.
"It is nice, and the weather is perfect," Greg said beaming at Melbourne's grey skies.
Greg, Garry, Micheal, Nigel are some of the first people in all of Melbourne to sit down for coffee after their tradition morning bike ride – although they say they still need to figure out the rules about mask wearing while having a sip @AmyRemeikis @GuardianAus pic.twitter.com/8Fg2IjHQ9i

— Matilda Boseley (@MatildaBoseley) October 27, 2020
"We aren't too sure about the mask rules, though," said another one of the group. "Are we meant to be wearing it while we sit down and drink?"
On the next table over sat Darren Reece and Nicole Smith, who decided to come for breakfast while on their early morning walk.
"I'm no a great cook, so I can actually have things I can't make up home," said Reece.
"It just feels normals again … I don't think it has kicked in yet, I think it's going to take a week or so."
Smith said it was just nice to see people back at work.
"There are so many people here that wouldn't be if we were still locked down."
Despite the early hour, people are greeting each other on the street.
"It's so nice isn't it, there are people on the beach, there are people in the cafes," said one lady to man she nearly bumped into.
"It just feels good."
Chef Pelden Lama from Leroy's arrived at 7.15am. He said he was bracing for a rush of customers to come through the doors.
"People are going a bit crazy, you know. There they can't go out, they don't have that culture so, yeah, we are probably going to be busy!."
Hafta Ichi
Source: The Guardian
Keyword: Big breakfasts and latte art: cafe culture returns to post-lockdown Melbourne | Melbourne