Join Hafta-Ichi to Research the article "Cancel New Year's Eve parties as Covid loves a crowd, urge UK officials | World news"
New Year's Eve parties must be cancelled because "Covid loves a crowd", officials have said, as the government launched a public information campaign to encourage people to see in the start of 2021 at home.
Despite the dire warnings, political leaders tried to strike a positive tone about the year ahead, with Keir Starmer insisting the UK's "best years are still to come".
The Queen shared the final line of her historic Covid-19 speech as her new year message on the royal family's official Twitter account.
"We should take comfort that while we may have more still to endure, better days will return: we will be with our friends again; we will be with our families again; we will meet again. Wishing you all a Happy and Healthy New Year," the message read alongside four photographs of the last year.
As Covid-19 cases reached an all-time high, the government ran the message "see in the new year safely at home" across UK radio, print media and billboards . The public are being urged to act as if they have the virus to avoid spreading it without realising, as one in three people who have Covid show no symptoms.
The UK reported 964 Covid-related deaths and 55,892 infections in the last 24 hours on Thursday.
London and much of the south are now in a worse position than they were at the spring peak, with 18% of tests in the capital coming back positive.
Household mixing is banned indoors across the UK, apart from for a few thousand people on the Isles of Scilly. On Wednesday the government tightened restrictions for much of England, with 78% of the country beginning 2021 under tier 4, the highest level. Wales, Scotland and Northern Ireland were already in national lockdowns.
Early analysis from the government's New and Emerging Respiratory Virus Threats Advisory Group (Nervtag) suggested the new strain of coronavirus could increase R by 0.4 or greater.
In Scotland, which recorded 2,622 new cases and 68 fatalities on Thursday, the first minister, Nicola Sturgeon, tweeted: "Please stay at home as much as possible – including for the bells tonight – & avoid non-essential interaction with others."
Prof Stephen Powis, NHS England's medical director, called on people to show restraint when seeing in the new year. "It's absolutely vital that this year, everybody continues to follow the guidance by staying at home and not mixing," he said at the Downing Street press conference on Wednesday.
He added: "Covid loves a crowd, so please leave the parties for later in the year."
In a new year message recorded in the chapel of St Thomas' hospital in London, the archbishop of Canterbury, Justin Welby, praised the "incredible bravery, skill and care" of NHS staff.
"Many of us have lost family members or friends, often without being able to say goodbye. For anyone who is on the dark and difficult journey of grief – a path I know myself – I want to assure you that I am praying for you," he said. "This crisis has shown us how fragile we are. It has also shown us how to face this fragility."
The TUC general secretary, Frances O'Grady, used her new year message to urge the government to deliver on promises to boost rights at work and to ban zero-hours contracts. "Reset raging inequality so that those with most pay their fair share, everyone earns enough to live on, no child need go hungry and public services are properly funded," she said.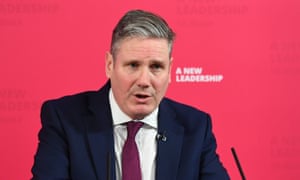 In his new year message, Starmer said Labour would focus on ensuring "greater prosperity, fairness and opportunity" as the UK forges a new path in the world in 2021.
His comments came after the party voted to back Boris Johnson's EU post-Brexit trade deal, arguing it was better than leaving with no deal, despite the misgivings of some of his pro-Europe MPs.
Despite the current transition period finally coming to an end at 11pm on Thursday, Starmer made no direct reference to Brexit in his message. He said, however, that the UK had suffered more than any other major economy in the coronavirus pandemic, although the roll-out of vaccines offered a cause for optimism for the year ahead.
"Until then, it is all of our duty to stay safe, to look after neighbours, keep up the national effort that has got us this far," he said. "Because when this crisis ends, and it will end, we will rebuild our country, together."
Hafta Ichi
Source: The Guardian
Keyword: Cancel New Year's Eve parties as Covid loves a crowd, urge UK officials | World news