Dav Pilkey, author of the bestselling Captain Underpants series, has quietly revealed that one of his two main protagonists, Harold, grows up to marry a man.
Pilkey's latest Captain Underpants novel, Captain Underpants and the Sensational Saga of Sir Stinks-A-Lot, has just been published, and sees George and Harold, the young creators of "the greatest superhero in the history of their elementary school", meet their future selves:
Soon, everyone had gathered together in Old George's studio. Old George, his wife, and their kids, Meena and Nik, sat on the couch, while Old Harold, his husband, and their twins, Owen and Kei, plopped down in the giant beanbag chair.

"What's up?" said George. "We're your dads when they were kids," said Harold.
Steven Frank at NewNowNext, who first highlighted Harold's outing, called it a "big (stinky) step forward for kid's lit", saying that "Harold, as an adult, is matter-of-factly presented as gay without commentary," which is "incredibly rare and refreshing" in children's book publishing.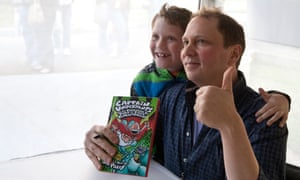 The Captain Underpants books have sold more than 70m copies worldwide, but have also excited controversy: in 2012 and 2013 they were the American Libraries Association's most challenged books over their "offensive language [and] violence". While the majority of readers on Amazon welcomed the new novel, others made comments including: "A heads up on the homosexuality contained in this book would have been nice."
In a piece written for the Guardian last month, Pilkey wrote: "People often ask me how I'd want to respond to those critics who would rather see my books pulled from shelves than handed to young readers. I do have an answer, and it boils down to the fact that not every book is right for every person. Some grownups are not amused by the kinds of things that make most children laugh, and so they try to stomp those things out."
"I understand that people are entitled to their own opinions about books, but it should be just that: a difference of opinion. All that's required is a simple change. Instead of saying 'I don't think children should read this book,' just add a single word: 'I don't think my children should read this book.'
"When it comes to books, we may not all agree on what makes for a good read – but I hope we can agree that letting children choose their own books is crucial to helping them learn to love reading."
When JK Rowling revealed in 2007 that her character, the wizard Dumbledore, was gay, it prompted worldwide uproar. In March, the author responded to a fan asking "I wonder why you said that Dumbledore is a gay because I can't see him that way?" with the tweet: "Maybe because gay people just look like… people?"
Source: The Guardian