Join Hafta-Ichi to find out the article "Coronavirus Australia latest update: Victoria risks lockdown fatigue as state pursues aggressive suppression strategy | Australia news"
23:20
This report from AAP, confirming what I think we've pretty much all suspected.
The global Covid-19 pandemic and lockdown has cemented the dominance of streaming services in Australians' lives as people indulged an insatiable appetite for digital entertainment.
Deloitte Australia's annual Media Consumer Survey focused on consumer behaviours specific to Covid-19 lockdowns and restrictions between March and May.
As Australians hunkered down, digital services took a starring role in keeping them informed and entertained in the absence of live music, sport, cinema and performing arts.
Of the 2,000 Australians surveyed by Deloitte, 53% expect to attend live events more frequently post restrictions, compared with pre-pandemic levels, but there is likely to be a period of adjustment.
Live-streaming experienced heightened popularity as typically out-of-home events had no choice but to shift to a screen within our homes. Twenty-three per cent of respondents said they had live-streamed during lockdown, and 50% of these did so for the first time.
Australia is a nation of sporting fans, with 47% of those surveyed indicating they actively followed sports on a weekly basis. On average, sports fans spent nearly six hours watching sport per week prior to Covid-19.
Deloitte Digital Media Sector Leader Leora Nevezie said without live sport, time spent watching sports halved to two-and-a-half hours per week, with the number of respondents actively following sport on a weekly basis dropping from 46% to 25%.
Without live sport, fans turned elsewhere to fill their time. Fifty per cent instead spent time keeping up with breaking news, 33% spent extra time with family and friends, 32% exercised, while 31% watched previously released shows and movies.
Updated

23:11
For more on the business sector's response to Victoria's roadmap, my colleague Luke Henriques-Gomes has filed this report.
23:07
Innes Willox, the chief executive of Australian Industry Group, has lashed the Victorian government's roadmap out of coronavirus restrictions.
He's said "the fury is palpable" among the business community, and said outbreaks in aged care and healthcare settings should be handled without city- and state-wide lockdowns.
Willox told ABC Radio National:



The point that business is saying is that with this roadmap there is no way it's going to be achieved in the timeframes that the government's proposing. To have zero cases for 28 days before we go back to normal. There's nowhere in the world where that's occurring.

Victoria seems to have been settled out for some sort of weird social experiment here and quite frankly it's going to destroy lives and livelihoods and we're seeing that occurring now.

There are so many inconsistencies in this document it's not funny. why can a cabinet-making business be opened but a carpet-manufacturing business can't? it makes no sense. So we want some consistency, some clear timelines and some clear timeframes.
Willox also called for the federal government to intervene to help Victoria's economy:



I don't think there's any option but for the federal government to get the Victorian economy moving again. Victoria is going to be a basket case for years, there is going to be high unemployment, we have no migration coming in which has been a big driver of the economy in the past, no foreign students, another big driver.

The city will be empty for another six months at least. Victoria is going to need all the help it can get to get back on its feet. It's sort of a rerun of the 1990s recession it's going to need a spark to get going again. And that's the disappointing thing is that the government in this so-called roadmap has put forward no ideas or no creative solutions about how to get Melbourne moving again.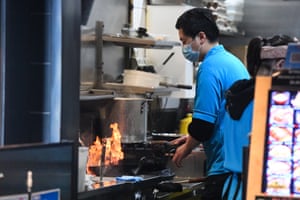 Updated

22:50
For those of you who still aren't across the details of Victoria's roadmap for easing Covid-19 restrictions, my colleague Calla Wahlquist has this report with everything you need to know.
22:42
Good morning
Welcome to another week of Covid-19 coverage across Australia.
Victoria's chief health officer Brett Sutton has acknowledged there is a risk of "lockdown fatigue", but said the alternative to continuing strict lockdowns is "too awful to contemplate".
Sutton was speaking the day after premier Daniel Andrews unveiled the roadmap out of restrictions for the state, which will see several more weeks of curfews for the states, and predictions life in Victoria won't return to a sense of normal for some months.
On fatigue, Sutton said:



I know that it is a risk, and we all feel it. We've all been subject to this. And some obviously have suffered more in terms of working livelihood and I understand that fatigue. But if there were an easier alternative, if we could just go back to a normal life now, we'd be choosing that.

These are difficult choices. There's no question. It is a hard road ahead and it is a slow and steady approach. But the alternative is too awful to contemplate, really, and I hope that people can hang on. But of course, there's a risk that there's fatigue. As long as people keep in mind that we will get there slowly and incrementally if we can drive this transmission down."
Health experts have backed the extension of the lockdown, however some business groups have expressed frustration at the roadmap. Here's a report outlining the details of the roadmap.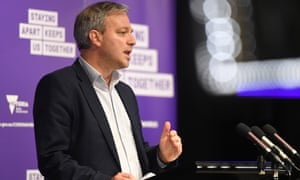 Elsewhere, the Morrison government has finalised deals to buy 84.8 million doses of two promising Covid-19 vaccines, if they prove successful. The $1.7bn agreement will see two vaccines, being developed by the University of Oxford and the University of Queensland, manufactured in Australia and provided free to all Australians. The first doses could be available by January 2021 if trials go well.
Updated

Source: The Guardian
Keyword: Coronavirus Australia latest update: Victoria risks lockdown fatigue as state pursues aggressive suppression strategy | Australia news
Related