Join Hafta-Ichi to find out the article "Coronavirus live news: Fauci says US needs to 'hunker down' this winter; global cases near 28m | World news"
00:47
President Trump has now arrived in Freeland, Michigan, where he's holding a rally at the airport. He's currently criticising Joe Biden.
Many of his supporters are crowded together, shoulder to shoulder, and few with masks on. It's become a theme at Trump rallies.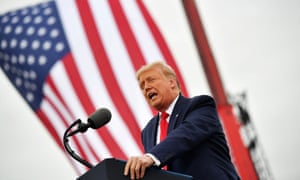 I'll bring you any virus lines from the rally as they pop up. Interestingly, Fox News has cut away from the rally to talk to studio guests, while the president is in full flight.
Updated

00:39
Fauci says US needs to 'hunker down' this winter
While Donald Trump told a White House briefing on Thursday that the US was "rounding the final turn (on coronavirus), and a lot of good things are happening", the country's top infections diseases expert, Anthony Fauci, warned Harvard Medical School panel that the US "needed to hunker down and get through this fall and winter because it's not going to be easy".
Fauci warned against underestimating Covid's power to cause destruction.
"We've been through this before," he said. "Don't ever, ever underestimate the potential of the pandemic. And don't try and look at the rosy side of things."
He also warned that some parts of the US would see rises in cases after last weekend's Labor Day holiday. The Memorial Day holiday at the end of May was also blamed for surges in June and July.
Updated

00:22
Hello and welcome to our live coverage of the coronavirus pandemic, with me, Alison Rourke.
Leading US infectious diseases expert Dr Anthony Fauci has said the country needs to "Hunker down and get through this fall and winter, because it's not going to be easy."
Fauci told a panel discussion with doctors from Harvard Medical School that there was a difficult few months ahead for the country. It came as Trump claimed the US was "rounding the final turn" in its coronavirus crisis as the country's death toll passed 190,000.
The president said during a White House press conference today: "We're rounding the final turn, and a lot of good things are happening." In reality, at least 191,536 Americans have already died from the virus, representing a far higher death toll than any other country in the world.
France has recorded nearly 10,000 new cases, its highest ever single-day total, a day before a cabinet meeting that might consider imposing fresh, local lockdowns to curb the spread of the disease.
The United Nations has called for an immediate 'quantum leap' in funding for global programmes developing coronavirus treatments and vaccine candidates. A $15bn funding gap needs to be plugged over the next three months, the the UN secretary-general said.
Finland's prime minister will work remotely until further notice after the country's new coronavirus tracing app warned that she may have been exposed to virus.
Greece has reported 372 new cases of the coronavirus, its highest daily figure since the pandemic began, bringing its total caseload to 12,452. Another four deaths were registered, taking the toll to 297.
Brazil recorded 40,557 additional confirmed cases of the coronavirus in the past 24 hours, and 983 deaths from the disease, the health ministry said on Thursday.
Tougher coronavirus restrictions are to be imposed in Portugal ahead of the start of the school year, including halving the size of permitted gatherings and new curbs on drinking. Sales of alcohol will also be barred from 8pm as will drinking in public spaces.
Source: The Guardian
Keyword: Coronavirus live news: Fauci says US needs to 'hunker down' this winter; global cases near 28m | World news
Related