Join Hafta-Ichi to Research the article "Coronavirus lockdown in Melbourne extended as federal parliament returns – politics live | Australia news"
21:08
Meanwhile, Helen Haines is continuing the crossbench push for a national integrity commission.
As Daniel Hurst reports:
The Morrison government is expected to come under pressure over its delay in progressing a national anti-corruption commission this week, with an independent MP introducing her own bill and Labor likely to intensify its question time attack.
Declaring the government's pandemic-related excuse "does not cut the mustard at all", the prominent independent MP Helen Haines told Guardian Australia: "There's nothing so delicious as a scandal and boy, we've had a feast haven't we?"
Haines, the member for the Victorian seat of Indi, will introduce her bill to parliament on Monday morning and is urging the government to allocate time for debate in the near future.
21:07
Expect this story to also get a bit of attention this morning.
First broken by Jennifer Bechwati at the Seven network, it has led to strong words from Dfat.
Updated

21:03
The federal battle over the Victorian situation is continuing this morning in Canberra.
There is some hope that restrictions in Melbourne could be eased mid-week – but it will all depend on how the most recent cluster is being handled.
Updated

20:59
Just on the Queensland election, Ben Smee has written up a piece on some of the seats to watch.
The three Townsville seats, plus Cook and Keppell, are looking very shaky for Labor to hold, as does Aspley, South Brisbane and McConnel. If they all fall, there goes Labor's majority in the parliament.
The only prediction worth paying attention to in any Queensland election is that it is unpredictable.
Updated

20:37
Good morning
Welcome to the ninth-last week of the year.
It starts, as so many have recently, in Victoria, where Melbourne remains under restrictions. Daniel Andrews had said as recently as Friday that there was cause for optimism, but with a new cluster of cases in the city's northern suburbs, a very cautious approach is being taken to any reopening.
The family whose child went to school while infectious has spoken to the Age and said they were cleared by Victoria DHHS to leave quarantine, and there were no specific instructions for any of the family members to remain in isolation. There will be more questions on that.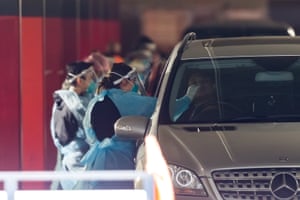 In parliament, the House of Representatives will sit and estimates continues – it is Treasury's time under the spotlight, so expect more questions on the Asic expenses controversy, following Friday's shock revelations which led to James Shipton standing aside, pending an investigation.
It is also Health's time – not only will there be Covid updates, but also some questions on the CovidSafe app, which was meant to be like "sunscreen", but hasn't lived up to the hype (what a surprise).
Elsewhere, the Queensland election has entered its final week of campaigning, with Labor facing serious losses in the north and far north – the election is anyone's at this stage. Queensland is always hard to pick, being three distinct electorates in one, and the only safe prediction is to be prepared for any outcome.
We'll bring you all the day's events as they happen. You have Amy Remeikis on the blog and the rest of the Guardian brains trust at your disposal. It's going to be a four-coffee day. I can feel it. Winter has made a last gasp here in a dreary Canberra, so hot cups of something won't be far away.
Ready?
Updated

Hafta Ichi
Source: The Guardian
Keyword: Coronavirus lockdown in Melbourne extended as federal parliament returns – politics live | Australia news
Related