Join Hafta-Ichi to Research the article "Covid live news: Modi faces increased pressure for national lockdown in India | World news"

08:41
New South Wales, Australia's most populous state, will extend most of its Covid-19 restrictions for another week as it struggles to identify the missing link between a quarantine case and the recent, small outbreak.
The state has again not reported any further community transmission, recording zero cases in the 24 hours to 8pm Saturday.
But NSW Health said it was still unable to identify the link between a case in hotel quarantine and two cases in the eastern suburbs, which were connected by rapid genomic sequencing work last week.
The state will therefore extend the restrictions by another week across greater Sydney, aside from one change, which will allow customers to shop without masks. Retail staff will continue to need to wear masks.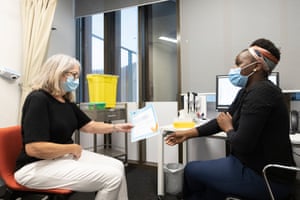 On Thursday, the state announced two locally acquired cases, a man in his 50s from Woollahra – dubbed Patient X – and his wife, also in her 50s.
The source of their infection has not yet yet been established. But authorities continue to believe he contracted the virus upon brief contact with an infectious person going about their business in the community unwittingly.
"Investigations are ongoing into the source of two locally acquired cases, announced on Thursday 6 May," NSW Health said on Sunday. "They are household contacts of each other; a man and woman in their 50s from the eastern suburbs.
"Despite extensive investigations to date, NSW Health has not identified how the initial case, the man in his 50s, was exposed to Covid-19, which suggests he acquired the infection through brief contact with a currently unidentified person who was infectious in the community."
Updated


08:40
Hello everyone.
India's Covid-19 deaths rose by more than 4,000 for a second consecutive day on Sunday, amid intensifying calls for a nationwide lockdown.
The country recorded 403,738 new infections in just 24 hours, just shy of the record, and 4,092 further fatalities, taking the overall death toll to 242,362.
On Saturday, India reported its highest ever single-day Covid-19 death toll of 4,187 fatalities.
Experts have said the actual numbers for new infections and deaths could be far higher.
Many Indian states have imposed strict lockdowns over the past month to stem the surge in infections while others have announced restrictions on public movement and shut down cinemas, restaurants, pubs and shopping malls, Reuters reports.
But pressure is mounting on prime minister Narendra Modi to announce a nationwide lockdown similar to the one imposed during the first wave last year.
The Institute for Health Metrics and Evaluation estimates that India will see 1 million deaths from the virus by August.
I'm Jedidajah Otte and I'll be bringing you the latest developments in all things pandemic for the next few hours. As ever, feel free to get in touch with tips and updates, I'm on Twitter @JedySays or you can email me.
Updated

Hafta Ichi
Source: The Guardian
Keyword: Covid live news: Modi faces increased pressure for national lockdown in India | World news