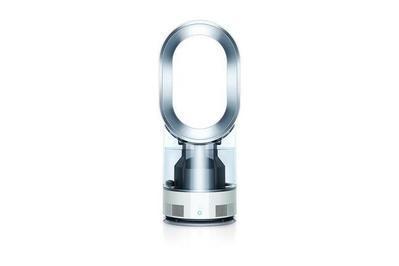 Dyson AM10 Humidifier
Capable performance at an incredible cost
The Dyson AM10 is good at humidifying a room, but it's hard to clean, maintain, and live with—and its price is typically hundreds of dollars higher than competitors'.
Buying Options
Buy from
Abt
May be out of stock
*At the time of publishing, the price was $400.
The Dyson AM10 Humidifier is a perfectly good humidifier, judging from all the performance data we measured, and it looks cool. But compared with the Levoit LV600HH (and our other top humidifier picks), it's priced in a class by itself and isn't easy to live with. The Dyson's tank is tiny and hard to fill, meaning more frequent and more irritating trips to the faucet. It's fussy to clean, with multiple small parts to take apart and wash separately. It also runs louder, and the display is brighter than other options, making it less suited for the bedroom or nursery. We can't recommend paying so much for a machine with its shortcomings, even if you love its looks.
Source: NY Times – Wirecutter