08:31
Stock markets have also retreated across Europe after an initial flurry of positivity (in Germany and France at least).
The Euro Stoxx 600 index, which tracks most of the biggest European companies, is down by 0.2%. Germany's Dax is down by 0.1%, France's Cac 40 has lost 0.3% and Italy's FTSE MIB has lost 0.7% in early trading.
08:25
Rolls-Royce shares slump after big loss and site closures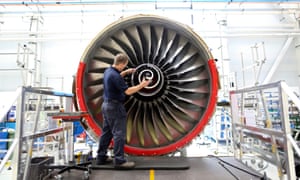 Jet engine manufacturer Rolls-Royce is the biggest faller on the FTSE 100 after revealing a £5.4bn loss and a plan to sell assets to shore up its creaking balance sheet.
Shares fell by 6.6% in early trading to approach their lowest point since the financial crisis.
Rolls-Royce has been hit hard by the decline in air travel, which has caused a massive hit to the revenues it earns from servicing jet engines. Total revenues fell by a quarter to £5.8bn in the first half of 2020.
The company is in the middle of its biggest ever restructuring of its civil aviation business. Some 4,000 employees have already left out of an expected 9,000, and the company will close sites in Lancashire and Nottinghamshire. That has been criticised by Unite, the union, after Rolls-Royce said it would move some of the work to Singapore and Germany.
The massive loss included a big £2.6bn write-off related to currency hedging and £1.1bn in other impairments, but its underlying loss before tax was still £3.2bn.
08:04
FTSE 100 opens lower as investors eye Powell
Good morning, and welcome to our live coverage of business, economics and financial markets.
It is the day investors have been looking forward to throughout August: US Federal Reserve chair Jerome Powell will make a much anticipated speech in which he is expected to address the central bank's future approach to monetary policy.
Market moves have been relatively muted in recent days (with many traders away and corporate activity relatively lower). The FTSE 100 eased in early trading, dropping by 0.1%.
That followed a trading session in Asia that saw MSCI's broadest index of Asia-Pacific shares outside Japan reach its highest point since August 2018 before dropping back to a 0.1% gain.
US stocks had hit new record highs last night, but now investors are now mostly positioned ahead of the Powell speech, which will also coincide with more detailed second-quarter GDP figures from the US and pandemic-hit initial jobless claims: it could be a bumpy opening on Wall Street later.
Naeem Aslam, chief market analyst at AvaTrade, a trading platform, said:



There is an element of caution among investors as the Fed chairman, Jerome Powell, will deliver a speech on a monetary policy framework later today. Dow Jones and the S&P 500 futures are likely to experience higher volatility on the back of this. The future of the coronavirus stock market rally is highly dependent on the Fed's monetary policy stance.
Oil market investors will also be closely watching news from the Louisiana coast, where Hurricane Laura has just made landfall. The strength of the hurricane has prompted fears of a large human cost amid the pandemic, and it has also forced a shutdown in oil production that rivals Hurricane Katrina 15 years ago.
Brent crude oil futures prices have edged up this morning to $45.70 per barrel for the North Sea benchmark. Prices for North American benchmark West Texas Intermediate are slightly down to $43.34 per barrel.
The agenda
9am BST: Eurozone M3 money supply, July (previous: 9.2%; consensus: 9.2%)
1:30pm BST: US GDP second quarter second estimate (prev: -5% annualised; cons: -32.5% annualised)
1:30pm BST: US initial jobless claims, week ending 22 August (prev: 1.1m; cons: 1m)
2:10pm BST: US Federal Reserve chair Jerome Powell speech
Updated

Source: The Guardian
Related