Join Hafta-Ichi to find out the article "Gloom in Caerphilly as first local lockdown in Wales begins | UK news"
It had been a good few weeks for Trevor and Susan Parry. They caught up with their grandchildren whom they had not hugged for months during the spring and summer lockdown, and took a brief holiday on the coast at Porthcawl, south Wales.
On Tuesday they were to be found taking in the view of Caerphilly Castle – and a queue of people trying to get into the Iceland supermarket – feeling gloomy at the idea of their area going, on Tuesday, into Wales' first local lockdown over the coronavirus pandemic.
"I think in our heart of hearts we knew it was coming," said Trevor, 65, a retired caretaker. "Over the past few weeks the pubs have been heaving and the hoards have been coming back from abroad. It was inevitable."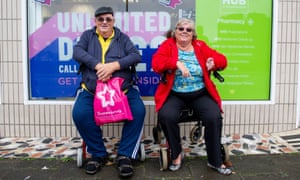 "They should have stopped people going abroad and then packing into the pubs," said Susan, a 66-year-old retired carer. "We're going to be stuck inside again. It was hard not seeing our grandchildren properly. They could only knock on the window and wave at us. That hurt."
There was a sense of concern, confusion and anger on the streets of Caerphilly: concern at the rapid rise in coronavirus cases and the warnings that hospital admissions would almost certainly follow in a few weeks' time; confusion that people were not to be allowed to enter or leave the county borough without good reason – while pubs, shops gyms, cafes, restaurants would stay open; anger at those bearing the brunt of the blame for the fresh crisis, the young party-goers and returnees from Mediterranean holidays.
"People have brought it on themselves, said Dean Evans, 52, who was shopping with his mother, Anne Williams, 75. "They haven't been listening. We'll end up being stuck in the house all the time. It's a nightmare. You get so depressed."
The Welsh government has ordered people to wear masks. "It's too late for that," said Williams. "You're supposed to wear masks on the bus but people ignore that."
There are areas of severe deprivation in the Caerphilly county borough and many people have significant health problems.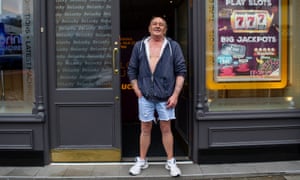 John Beechey, 65, a labourer, had just placed a bet in one of the town's bookies. "I've got a bad heart and diabetes. I've had one covid false alarm already. I expect they'll be more over the winter."
At a press conference in Cardiff the Welsh health minister, Vaughan Gething, said the Covid-19 rate in Caerphilly had risen to 72.9 coronavirus cases per 100,000 people – the highest rate in Wales and one of the highest in the UK.
He put the blame on house parties and people returning from holiday abroad and said other parts of Wales were on a "watchlist". Community testing was starting in the nearby Rhondda Valley.
Avril Thomas, 69, a retired independent social worker, said the lockdown had come as no surprise. "You only have to drive through town and you see so many people out and about enjoying themselves. I think people have been confused over what they can and cannot do."
Michael Roberts, who runs the Urban Bar BQ Co, took the decision last week to offer only takeaways. "We saw this coming and acted to protect customers, staff, the community and our business," he said. Roberts said that not all licensed premises had been so active. "We know some haven't bothered with trace and track."
So many parts of the local community expect to be affected. Will Rees, the volunteer director of Bedwas rugby club, said the club had been hit this year by flooding and Covid-19. The rugby club was struggling because of lack of income, feared losing youngsters who would have taken the sport up, and worried about older members missing their friends. "It's potentially disastrous, 2020 has been the most challenging year in the club's 130-year history," said Rees.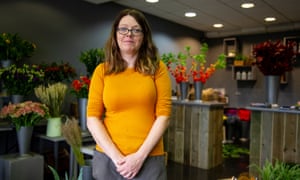 Businesses are fearing the impact of the new lockdown. Nicola Downie, who runs a florist shop opposite the castle, said: "It's very worrying. The town is not the same place it was this time last year. We hope we'll be able to keep going."
Jackie Stephens, 56, who has learning disabilities, said that since February she had not been able to go to a day centre she liked to visit. "I've been crying at this new lockdown," she said. "I want to see my friends."
Rhydian Birkinshaw, 25, an operations manager at Wales Millennium Centre, in Cardiff, but currently on furlough, suggested it was not fair to put the blame entirely on young people. "Some have been doing silly things. Police had to break up a rave recently. Going to a rave is not on. Equally, elderly neighbours continued to go to friends' houses in lockdown and as soon as they could were off on the bus up to Blackwood.
"Everyone has been doing something that has bent the rules. You can't say it's the rave or the flight from Zante or the people popping up to Blackwood to visit their friends. It's a combination – it's everyone."
Source: The Guardian
Keyword: Gloom in Caerphilly as first local lockdown in Wales begins | UK news