15:55
Hurricane Laura moves inland on a northerly path
Hurricane Laura, the most powerful hurricane to strike the US this year, was moving inland on a northerly path on Thursday morning, threatening an "unsurvivable storm surge" and tropical force weather as far as Tennessee.
The storm slammed into western Louisiana overnight with gusts of up to 150mph and will cause "catastrophic conditions" as it progresses, the National Hurricane Center (NHC) said.
Concern was growing on for people in the path of the tempest in Louisiana who did not evacuate on Wednesday.
The northern eyewall of the storm moved over Cameron Parish, on the Louisiana coast, at 1am ET, before slamming into the city of Lake Charles.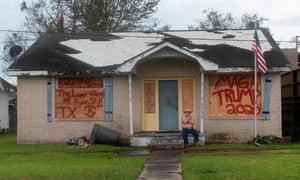 Authorities had ordered coastal residents to get out, but not everyone did in an area which was devastated by Hurricane Rita in 2005. More than 450,000 homes were without power in Texas and Louisiana on Thursday morning.
Laura was heading north towards Shreveport, Louisiana, early Thursday morning, rather than west across Texas as had been one of the leading predictions, meaning the city of Houston has probably dodged a bullet, although coastal Port Arthur is threatened by storm surge flooding.
The fierce wind battered a tall building in Lake Charles, blowing out windows as glass as debris flew to the ground. Hours after landfall, the wind and rain were still blowing hard.
Read the full piece:
15:26
Comment: "Politics is weird right now, but Trump's convention is another level of strange"
Two weeks ago, Mike Pence did something weird. Every day brings with it an opportunity to be freaked out by something new, so you have probably forgotten all about this by now, but what happened was the US vice president took to the podium at a Farmers and Ranchers for Trump rally in Iowa and started talking about meat in a loud, expressionless voice. "I've got some red meat for you," he intoned. "WE'RE NOT GOING TO LET JOE BIDEN AND KAMALA HARRIS CUT AMERICA'S MEAT," he shouted, opening his mouth wide in that startling way of his, where the whole top of the face stays utterly immobile, eyes dead, and the lower jaw unhinges itself.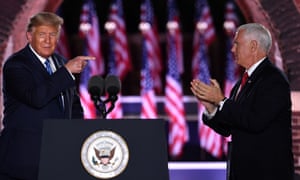 It was a noticeably strange scene, and I'm sure people would have been taken aback even if safety concerns due to the pandemic hadn't meant Pence was addressing a vastly reduced crowd. Pence's cadences and rhythms, his habit of looking around in belligerent appeal while rocking himself backwards and forwards using the lectern as a support – these methods are suited to large, appreciative audiences whose cheers go at least some way to masking the outlandishness of what is being said. The way it usually goes with these things is Mike Pence or whoever says something unintentionally hilarious about cutting America's meat, and the roars of the crowd make it clear that he is telling his audience what they want to hear.
These speeches are meant to have a long afterlife, full of soundbites intended to be endlessly replayed on news shows. You're meant to watch these clips and add "red meat" to the list of things that are apparently a huge deal in the upcoming American election. Look at all those people clapping and screaming away, you're meant to think. None of them seem even slightly alarmed by this. But without the sorely needed buffer of an audience, however, a very different picture presents itself.
Read the full piece:
14:47
Kushner dismisses NBA protest: 'they have the luxury of taking a night off'
Updated

14:29
Republican convention delivers whirlwind of lies great and small
As Hurricane Laura roared towards the southern US coast, the Republican national convention unleashed Hurricane Liar.
There were lies aplenty at the last convention in Cleveland four years ago but, in those innocent days, reporters were still reluctant to call a lie a lie. Donald Trump blew that up on his first day in office when he and his officials claimed his inauguration crowd was bigger than Barack Obama's.
Now there is no getting away from the fact that Republicans are commandeering more than two hours a night of primetime television to lie and mislead so brazenly, frequently and shamelessly that there's a chance the American public will simply be worn down into submission and untruth will be normalised.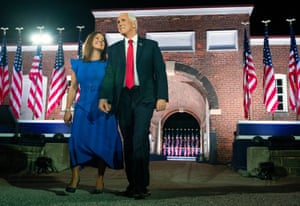 As the New York Times columnist Frank Bruni noted, all conventions tell "extravagant fibs" but this one is "less a feat of pretty storytelling than an act of pure derangement". Wednesday night was another opportunity to deny Trump's record, deny the severity of the coronavirus pandemic and climate crisis, and deny reality itself.
Vice-President Mike Pence portrayed Trump as America's saviour from Covid-19. "Before the first case of coronavirus spread within the United States, President Trump took the unprecedented step of suspending all travel from China," he said, a false statement since there were several exceptions to the ban that still allowed tens of thousands to travel.
Read the full piece:
Source: The Guardian