08:26
The FTSE 100 has given investors something to think about this morning: it opened up by 0.5% at 8am BST, but has dropped to a 0.3% decline in the 20 minutes since.
That means London's blue-chip index is back below 6,000 points.
Elsewhere the biggest European markets all went through the same bumpy ride. The Euro Stoxx 600 is down by 0.1%, having opened up by 0.3%. Germany's Dax index is flat, having opened up by 0.4%, and France's Cac 40 is also flat, having gained 0.3% in the opening trades.
Updated

08:19
German consumer confidence falls back, surprising economists
German consumer confidence fell back in August, denting economists' hopes that the rebound from the depths of the coronavirus lockdowns would continue.
The latest indicator (labelled, confusingly, as September) by GfK fell to -1.8, down from -0.2 in the previous reading and lower than the 1.2 expected by economists.
GfK in its report said:



Expectations for a rapid recovery in the consumer climate in Germany were dealt a significant blow in August. After gaining for three consecutive periods, the indicator suffered a considerable decline.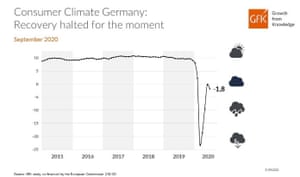 Rolf Bürkl, an analyst at GfK, said:



An increase in the number of infections and the fear that coronavirus-related restrictions will be further tightened are creating uncertainty and consequently dampening the mood. The reduction in value added tax (VAT) which came into effect in Germany on July 1st may be boosting propensity to consume but has not yet been able to provide a stronger stimulus.

Whether or not this is just a temporary slowdown will depend primarily on what infection rates look like in future and the necessary measures to be put in place by policy makers.
07:46
Introduction: Nikkei slumps and yen rises after Abe resignation report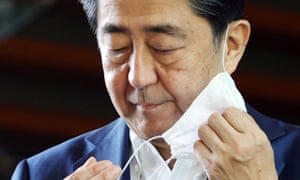 Good morning, and welcomed to our live coverage of business, economics and financial markets.
There had been rumblings for a few days about Japanese Prime Minister Shinzo Abe's health problems after repeated hospital visits, but this morning rumours appear to have bubbled over into news: multiple media reports say he will indeed resign.
The news prompted an immediate slump on Japan's stock market, with the blue-chip Nikkei 225 index losing as much as 2%, while the safe-haven Japanese yen, which had been falling, jumped by about 0.5% to a session-high of 106.10 per dollar on the news before easing to about 106.22.
Reuters reported:



A person familiar with the matter said Abe, the nation's longest serving premier, had decided to step down.

Public broadcaster NHK earlier said Abe, who has battled the disease ulcerative colitis for years, wanted to avoid causing problems for the government due to the worsening of his condition
Also coming up today, we have eurozone economic sentiment and consumer confidence figures at 10am BST, which could come in lower than expected after GfK's measure of German consumer confidence came in with a negative 1.8 reading, compared to a positive 1.2 consensus expectation. More on this to follow.
And at 2:05pm BST Bank of England watchers' attention will be fixed on a speech by Andrew Bailey, the governor.
He has a tough act to follow after Federal Reserve chair Jerome Powell signalled a permanent change in the US central bank's inflation targeting regime, although the Bank of England has its own issues to face. Bailey could talk about work the Bank has done on the diminishing returns from quantitative easing.
The agenda
9am BST: Japan Shinzo Abe press conference (subject to change)
10am BST: Eurozone economic sentiment, August (previous: 82.3; consensus: 88.9)
1:30pm BST: Canada GDP, second quarter (previous: -8.2% annualised; consensus: -39.6% annualised)
2:05pm BST: Bank of England Andrew Bailey Jackson Hole speech
Source: The Guardian
Related