Join Hafta-Ichi to find out the article "Landscapes of Communism by Owen Hatherley review – a dissenter's tour of Soviet architecture | Art and design books"
Owen Hatherley's grandparents were members of the Communist party of Great Britain who lived in a small semi-detached house in a suburb of Southampton. Framed prints of Salisbury Cathedral and northern rural scenes decorated the living room walls. The couple liked to sit by a large plate-glass window and watch the birds in the garden. Apart from a cabinet displaying a complete bound set of Labour Monthly and a small collection of Marxist and socialist classics, there was nothing about this house, this "entirely private place" shouldered by a Victorian church, that announced it as communist.
What, wonders their grandson, would they have made of other spaces created by communists in countries where they were in power? Would they have wanted to live in the "grey prefabricated towers" on the outskirts of Vilnius, "with balconies at unlikely angles … cantilevered over vast, usually empty public spaces"? Would they have identified with the "immense neo-Renaissance blocks" of Warsaw, "decorated with giant reliefs of musclebound workers", or would they have felt crushed by such imagery? And what about the Moscow Metro, "with its staggeringly opulent gilded halls"? Would they have approved of or dismissed its grandiosity as "something that was best for a distant, only recently feudal, country"? Might the landscapes of built communism have compared favourably to the places they hailed from – the slums of Portsmouth, or rural Northamptonshire?
Hatherley spent five years wandering through the former Soviet bloc – Berlin, Prague, Budapest, Vilnius, Kiev, Moscow, Riga, Tbilisi and many elsewheres – trying to answer these questions. Often accompanied by his girlfriend, Agata Pyzik (author of Poor But Sexy: Culture Clashes in Europe East and West), with whom he shares an apartment in Warsaw, he covers great tracts of socialist construction. He walks the magistrales, or boulevards – the grand arteries designed to convey parades of workers or military hardware ("The tanks come in threes, as far as the eye can see", reads one children's book from the Polish People's Republic) – to gigantic central squares where the party cadres would be waiting to salute or harangue them. He roams the wind-blasted rectilinear slabs and towers of the mikrorayons, "social condensers" designed to accommodate populations larger than most cities in a relentless infinity of right-angles, a style (and often constructional method) that was rolled out across a transcontinental territory stretching from the borders of Scandinavia to the edge of Afghanistan. He explores the "steroidal concrete hulks" of sports stadia, cultural centres and elevated highways, and cranes his neck to inspect soaring telecommunications towers – poised, in Marx's phrase, to "storm heaven" – and the head-spinning melodrama of "wildly unstable, furiously kitsch" skyscrapers of the Stalinist period (which offer an alternative meaning to what is usually intended by "socialist camp").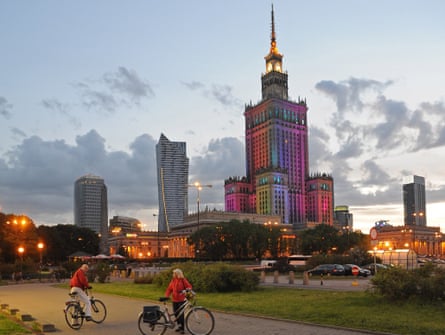 The Communist-era Palace of Culture and Science is lit up in Warsaw, Poland.

Photograph: Alik Keplicz/Associated Press
The doughty Hatherley returns from this expedition hauling a slab-heavy book (at over 600 pages, it literally leaves an impression), shingled with sharply perceptive commentary: the "giant, rugged faces" of workers depicted in monumental reliefs have "granite cheekbones you could cut yourself on"; "grand archways, passageways, triumphal routes" instil "the feeling that you are always about to arrive at something". There's also Hatherley's trademark polemical pebbledash. When comparing the GDR's "relentlessly clean and tidy" reconstruction of central Dresden to "the birdshit-encrusted neglect of postwar Coventry", he suggests we ask "who exactly won the war"? He forgives the bad taste of many revolutionary statues, even "their travesty of history", because they play an important role "in maintaining Soviet memory for a significant part of the population, for those who refuse to recall their youth as an endless Gulag, but as something of which they are, at times justly, quite proud". The oligarch who fired a bazooka from his chauffeur-driven car at Lenin's bronzed arse in a square in Kharkiv is congratulated "for knowing fully what Lenin actually stood for, ie the destruction of people like him".
Hatherley, who had barely lost his milk teeth when the Soviet empire fell, readily confesses his liminal status as an interpreter of what the dialecticians called "real socialism". He relies on translated sources and conversations with people who are avowedly unrepresentative of anything other than "broadly leftwing aficionados of 20th‑century architecture", and he has "no grounding" in the landscapes he writes about, though he keenly advertises his credentials as someone who has lived "in actual western European council estates" (the reader may struggle to think of a non-actual council estate). He is a self-posited outsider who writes about surfaces, pre-emptively claiming this superficiality as a valuable inscriber of "many political and historical things".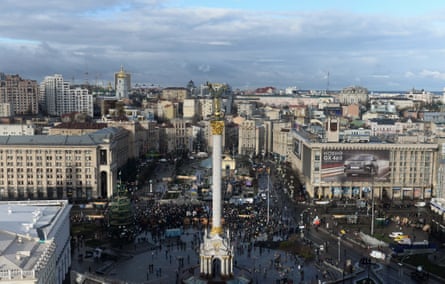 A view over Kiev's Maidan during pro-European Union protests in December 2013.

Photograph: Jia Yuchen/Rex Features
So, he looks at buildings and monuments, his gaze ricocheting from one to another, but he rarely enters them – there is no inside, and hence no answer to the question he posed on his grandparents' behalf: what was it like to live in these spaces? We are invited to listen to communism's "architecture parlante", to its sussurations and caterwaulings, but not to the voice of the people whose lives were perhaps improved or jeopardised by it. In fact, there are hardly any actual people in this book – even his grandparents are curiously erased after page three – just "the people", a thingification of the workers, peasants and intelligentsia for whom these "ruins of the future" were erected. The political fantasy is artfully revealed, but not the social reality.
Ultimately, this book is a long lament by a radical dissenter from capitalism for the misfired Renaissance of socialism. But it's invested with the hope that the idea of socialism might be salvaged from its abortive history, that "revolution might be a rather exciting thing, one that would transform the world, and transform space, for the better. Worth doing. Why not try it." Hatherley has a primitive fear of churches and sacral architecture, but there's something sacral about his desire to save the utopian chalice of Marx's prophecy. His optimism may yet be vindicated. What he's unlikely to settle for is a nice little semi on the outskirts of Southampton.
• To order Landscapes of Communism for £20 (RRP £25) go to bookshop.hafta-ichi.com or call 0330 333 6846. Free UK p&p over £10, online orders only. Phone orders min p&p of £1.99.
Source: The Guardian
Keyword: Landscapes of Communism by Owen Hatherley review – a dissenter's tour of Soviet architecture | Art and design books