Join Hafta-Ichi to Research the article "The Best Bike Helmet for Commuters
"
Our pick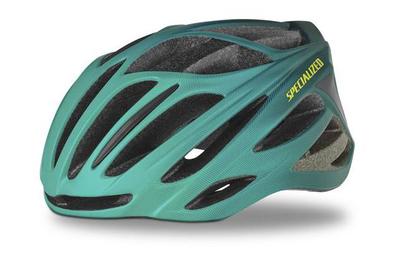 Specialized Echelon II
The best commuter helmet
No other helmet at this price offers the same ease of use, customizable fit, or top-tier safety considerations that the Echelon II does.
The Specialized Echelon II has safety and comfort-improving features unique in its price range, including an adjustable harness that wraps fully around the head for even pressure distribution. The chin straps are less fussy than any others we tried, and our testing panel of more than 10 agreed its ventilation is as effective as that of much more expensive models with larger cooling vents. The current model has a slightly rounder back than the one our panel initially tested, and that's a good thing. Ever since Greg Lemond won the Tour de France in 1989 wearing a Giro Aerohead, the tail has been an inescapable presence in helmet design, even though it offers no performance benefits for anyone cycling slower than 35 mph (all of us). Worse yet, some experts suggest that a tail is actively hazardous in the event of a crash since it can potentially snag on the pavement and tear the helmet off. Specialized now only offers this this helmet in the MIPS version, which costs $90 (up from $70 for the non-MIPS version); however, going MIPS-only is a trend we're seeing throughout the helmet world, so we don't consider this to be a deal-breaker. (It's still not been proven conclusively that MIPS actually prevents concussions.)
Runner-up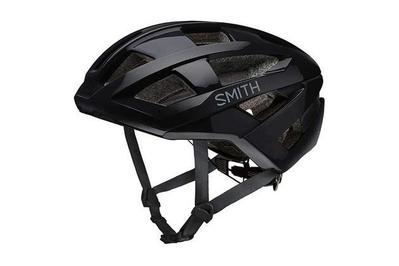 Smith Portal
Sleeker looks, fewer certifications
The Smith Portal has the same fine-tuned fit of our top pick, and the attractive matte exterior is built to take abuse.
Although the Smith Portal lacks the Snell certification and established track record of the Echelon, the Portal won testers over with its attractive matte monochrome finish and excellent fit. (It has the legally required CPSC certification.) It feels low and secure on the head without the extra bulk of a big piece of foam on the back. The Portal abandons the look of helmet "tails" almost entirely, instead rounding out the back, making it smooth and slidable. There is no exposed EPS foam on the exterior—not even on the underside—an upgrade in quality that should protect it from abuse. Although the Portal model we originally recommended lacked built-in MIPS anti-concussion technology, the Portal is now available only in the MIPS version, which costs $30 more than the old non-MIPS version. Although, as with the Echelon II, we don't consider this a deal-breaker —given that so many companies are going MIPS-only—the price bump is higher for the Portal than for the Echelon, which we don't love.
Budget pick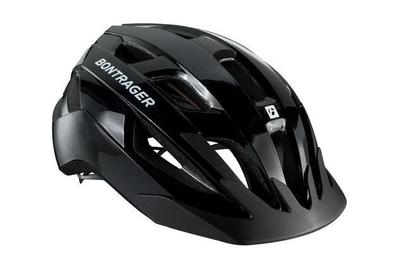 Bontrager Solstice
An outstanding value
The least expensive helmet we found that still meets every single criteria for fit, form, and safety. It's thicker and less-ventilated but comes with a rare, 1-year, full-replacement crash policy.
If you don't bike that often, or if you don't mind a thicker, less-ventilated design, save a few bucks and get the Bontrager Solstice. It's the most affordable helmet that hits all our standards for fit, including multiple size options and a dial-in adjustment mechanism. Atypical of this price range (but standard among costlier helmets, such as our other picks), the Solstice is made through in-mold construction. This means the plastic shell is fused to the protective foam liner, instead of taped or glued, resulting in a stronger helmet. In addition, Bontrager offers one of the best crash replacement policies we found: The company will replace your helmet for free if you hit your head while wearing it up to a year after purchase. The Solstice also comes in a more expensive MIPS configuration, but again, we don't yet have reason to believe it's worth the premium. (Bontrager hasn't (yet) eliminated the non-MIPS version.)
Hafta Ichi
Source: The NY Times
Keyword: The Best Bike Helmet for Commuters