Join Hafta-Ichi to Research the article "The Best Collapsible Folding Wagons
"
Our pick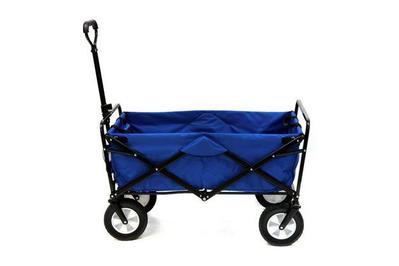 MacSports Collapsible Folding Outdoor Utility Wagon
An all-purpose wagon
This is a versatile, light, easy-to-use wagon for toting everything across different types of terrain.
Of all the wagons we tested, the MacSports Collapsible Folding Outdoor Utility Wagon best hits the sweet spot among price, versatility, weight, and ease of use. It's one of the simplest wagons to unfold and use, and it rolls smoothly enough to keep its contents intact over mud, grass, bumps, and curbs. At 22½ pounds, it was the second lightest of any wagon we tested and a cinch to lift into cars. It's also one of the lowest-priced wagons we tested, but it performed as well or better than wagons that cost twice as much. The wagon can hold up to 150 pounds. But even though we've seen people using these wagons to haul kids, the safest wagons for moving kids around are stroller wagons, like our also-great pick, the EvenFlo Pivot Xplore All-Terrain Stroller Wagon.
Also great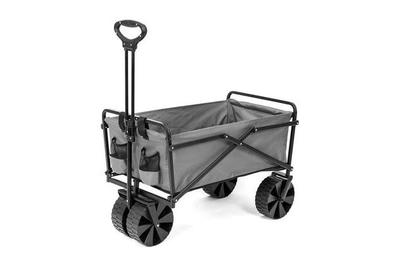 Seina Manual Folding Utility Beach Wagon
A great wagon for the beach
Perfect for toting gear across an expanse of beach, this wagon has wide wheels and does exceptionally well over sandy terrain.
The Seina Manual Folding Utility Beach Wagon is usually about the same price and has similar features as our main pick, the MacSports wagon, but the Seina has big plastic wheels that are easier to pull over sand. At 15.4 pounds, it was the lightest of all the wagons we tested. Wagons with rubber wheels tend to sink in the sand when loaded with gear, but the Seina's plastic wheels make it a cinch to pull over sand, even when the wagon is loaded with up to 150 pounds of stuff. The downside is that the plastic tires are louder and bumpier on hard surfaces (such as roads and sidewalks) than the rubber wheels of a wagon like the MacSports. But if you plan on using a wagon mostly at the beach, this is probably the better option. Like the MacSports, it's not intentionally designed for hauling little humans.
Also great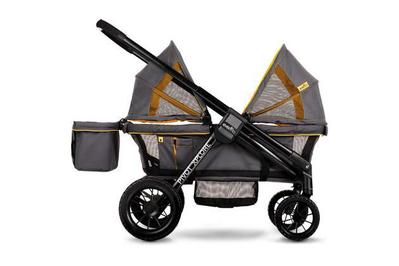 EvenFlo Pivot Xplore All-Terrain Stroller Wagon
A stroller wagon for small kids
A cross between a folding wagon and a stroller, with sunshades and harnesses included, this wagon lets you carry both kids and gear.
If you want a folding wagon for toting small kids between the ages of 6 months and 4 years, the EvenFlo Pivot Xplore All-Terrain Stroller Wagon has safety and comfort features that are similar to those on a stroller, but it can carry a lot of your gear, too. The Pivot Xplore's handlebar makes it maneuver more like a stroller than a folding wagon (you can push it, and it turns easily), and it folds up smaller than any of the other stroller wagons we looked at. At 34.7 pounds, the Pivot Xplore was the heaviest of all our wagon picks. And though it's about three times more expensive than the simpler MacSports and Seina folding wagons, the extra cost and features may be worth it if you plan on making this one of your main modes of transportation for little ones.
Upgrade pick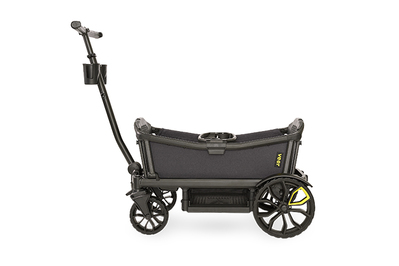 Veer Cruiser
A longer-lasting stroller wagon
This roomy and well-built wagon is likely to last a very long time, and since it has many add-on accessories, it can be adapted for use with kids of various ages.
Buying Options
Buy from
Backcountry
May be out of stock
If you're looking for a stroller wagon that will take children from infancy to grade school, the adaptable Veer Cruiser may make sense for you. This wagon is for those who are willing to pay significantly more for something that will provide many years of transportation—as well as fun. The roomy interior and dedicated foot wells mean it's extra-comfortable for two kids to sit in while they're pulled around the neighborhood. It weighs 32½ pounds—just a couple of pounds lighter than the Pivot Xplore. And Veer sells various add-on accessories that make the wagon adaptable for babies and bigger kids, including a car seat for infants and a hammock seat for toddlers.
Hafta Ichi
Source: The NY Times
Keyword: The Best Collapsible Folding Wagons