Our pick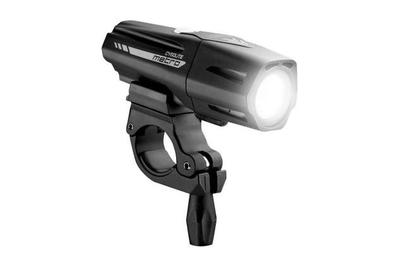 Cygolite Metro Plus 800 USB
Best headlight
This affordably priced light offers more brightness and a better-shaped beam than anything in its category. It's fully waterproof and has a durable, easy-to-use quick-release mount.
Buying Options
$60* from Amazon
*At the time of publishing, the price was $58.
Headlights in the Cygolite Metro series have been picks since 2013 because they offer more brightness, more flashing modes, a wide beam—visible from many angles—and solid reliability at a consistently lower price than other comparable headlights. The new Metro Plus 800 USB retains this winning formula and adds full waterproofing (IP67), a redesigned mount that's easier to install and remove, and a Micro-USB charging port in the place of the older Mini-USB. Rural commuters will appreciate that its 800-lumen "boost" setting is enough to light up unlit roads like a car's headlights for up to one and a half hours, while urban cyclists will appreciate that even its lowest setting is more than bright enough to cut through light pollution for up to six and a half hours. The Metro Plus 800 also gets the little things right, including the ability to remember its last-used setting and a lockout mode for the power button. Although Cygolite's one-year warranty isn't as long as many other manufacturers' offerings, repairs are easy and affordable thanks to the company's California-based factory.
(Brightness levels aside, everything we like about the Metro Plus 800 applies equally to the Metro Plus 650, 950, and 1100. If the 800 is unavailable or the pricing at your time of purchase favors another of these models, go with whichever one looks best at the time.)
Runner-up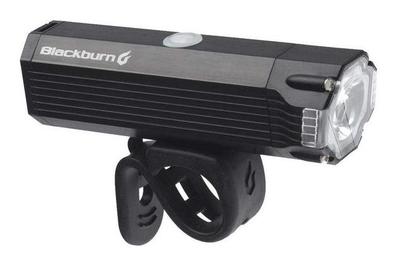 Blackburn Dayblazer 800 Front Light
If you prefer a strap mount
This slightly pricier headlight is a solid choice in every regard, including brightness, waterproofing, and particularly its all-metal body. Its rubber-strap mount secures easily onto almost any handlebar.
Buying Options
$65 from Backcountry
$65 from Amazon
$65 from Jenson USA
For cyclists who prefer a rubber-strap attachment to a quick-release plastic mount, the Blackburn Dayblazer 800 Front Light is a close runner-up that offers a comparable amount of brightness and flashing modes for only a bit more cash on most days. It mounts easily to handlebars of any width (including wing-shaped aerobars) and even comes with a helmet mount in the box—an accessory that's sold separately for most bike lights, including the Cygolite Metro Plus 800. The Dayblazer 800's beam is wider than that of most lights but isn't quite as wide as the Metro Plus 800's, making for a brighter center but less overall visibility. Furthermore, this Blackburn model lacks a lockout mode for the power button and hasn't been as thoroughly vetted by other independent reviewers as the Cygolite. But the Dayblazer 800's sleek all-metal exterior and IP67 waterproofing, combined with Blackburn's stellar reputation for reliability (backed by a limited lifetime warranty that includes two years of coverage on electronic components) gives us confidence that this light will perform for years to come.
Our pick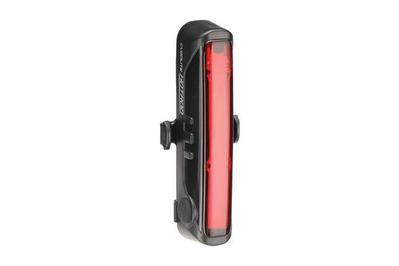 Cygolite Hotrod 50
Best taillight
Twenty LEDs are more visible than one—especially during the daytime. This affordable strap-on taillight is an exceptional value and easily mounts to almost any part of a bike.
Buying Options
$32* from Amazon
*At the time of publishing, the price was $25.
The Cygolite Hotrod 50 USB is the best taillight because it's more visible from more angles under a wider variety of conditions than any other light we've tried. Testers agreed that its long strip of LEDs and transparent, domed enclosure helped them notice its 50-lumen flash from almost anywhere they stood. We also appreciated how easy its rubber-strap mount was to attach to any number of locations on the back half of a bicycle—although some people may lament its lack of a clip for hooking onto bags or clothing. At three and a half hours, the Hotrod 50's battery life on high flash mode is slightly below average, but it should still last most commuters a week between charges. It lacks a dedicated color-coded battery-life indicator LED, but it does flash upon powering down to warn you that it's low on battery.
Runner-up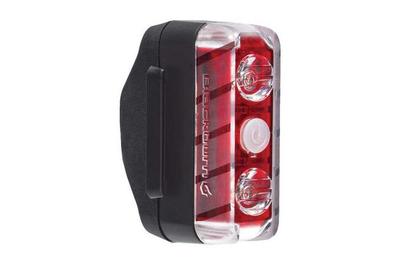 Blackburn Dayblazer 65 Rear Light
Fewer modes, more ways to install
You can clip this waterproof blinker onto your clothes or bag or mount it to any part of a bike without needing any tools. But it can be less visible in the daytime than our top taillight pick, and it has only three modes.
Buying Options
$33 from Amazon
$33 from Jenson USA
The Blackburn Dayblazer 65 Rear Light is our runner-up pick for taillights; its integrated metal clip makes it a great option if you prefer to mount lights on your bag or body. Like the Cygolite Hotrod 50, the Dayblazer 65 features a clear, domed enclosure that's visible from almost any angle. But instead of a solid strip of LEDs, it has two LEDs—one at each end—amplified by conical reflectors. In our tests, this design was actually more noticeable at night than the Hotrod 50's solid strip array, but it made the Dayblazer 65 less visible from off-angles during daylight hours. We also like that this model is fully waterproof (IP67) as opposed to merely water resistant (IP64). Its multi-part mount can be confusing, since you have to keep track of a few separate rubber bits, but this design offers unparalleled flexibility: It's the only light we tested that has a clip for attaching to clothes and bags yet can also mount to any part of a bike (including oddly shaped aero seatposts) without tools. However, the fact that the Dayblazer 65 has only three lighting modes (two flash, one solid) bumped it to runner-up status.
Budget pick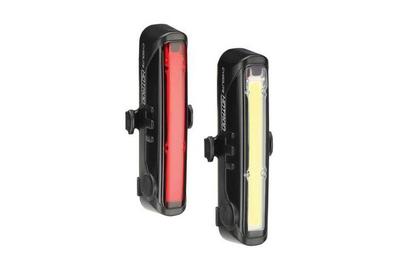 Cygolite Hotrod Front 110 and Hotrod Rear 50 USB Combo
To be seen (but not see much yourself)
These lights offer all-around visibility at night and during the day, but the headlight (110 lumens) does nothing to illuminate a dark path ahead of you.
Buying Options
$52* from Amazon
*At the time of publishing, the price was $53.
If the vast majority of your commute takes place on well-lit urban streets, you can opt for the Cygolite Hotrod Front 110 and Hotrod Rear 50 USB Combo for less than the cost of a single headlight. This set includes the excellent Hotrod 50 taillight and adds a Hotrod 110 for the front. The Hotrod 110 is basically the same light as the Hotrod 50, except it uses white LEDs instead of red ones and flashes at 110 lumens. This set won't light the path in front of you, but it will make you highly visible from every angle at all hours of the day and night.
If you're reading through these descriptions and already fretting over the battery life figures, note that most of our picks have higher-powered, pricier variants that will last longer on lower brightness settings. It would be easy enough for us to recommend these variants as upgrade picks, but the truth is, you would be better off saving the money you'd spend on such a model to invest in a dynamo setup instead. Dynamo lights are powered by the rotation of your front wheel, so they never run out of juice. However, it's not as simple as just buying a light and hooking it onto the handlebars. At the very least, you'll need a special wheel and the know-how to wire it up—or the willingness to pay someone else to do that for you. Things get pretty complicated pretty quickly from there, so if you're interested, read "Upgrade pick: Invest in a dynamo setup" below to learn more.
source: hafta-ichi.com/wirecutter/