Our pick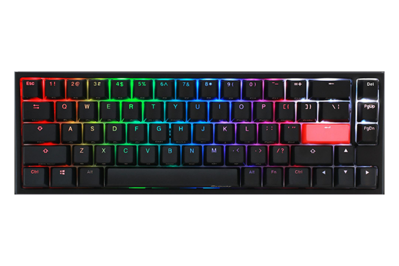 Ducky One 2 SF
The best compact keyboard
The One 2 SF is the Goldilocks keyboard—it doesn't have too many or too few keys—and it feels great to type on.
Buying Options
$110 from MechanicalKeyboards.com
The Ducky One 2 SF has all the keys most people use and cuts the ones they don't—hitting the sweet spot of size and layout. The One 2 SF is a solid keyboard that provides a delightful typing experience and has clearly labeled, easy-to-access volume keys, and as a fun bonus, it also offers customizable RGB backlighting. It's available with a variety of Cherry switches to accommodate the sound and feel you like when typing; we recommend MX Brown switches if you're not sure. The One 2 SF isn't fully programmable and is tricky to customize, but most people don't need to mess with that. You have to pay quite a bit more to get a better small keyboard.
Budget pick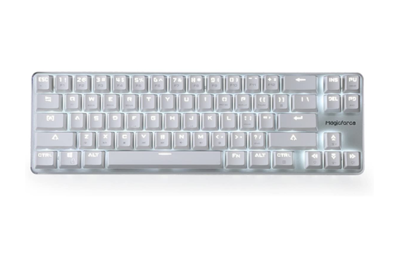 Qisan Magicforce
A starter keyboard
The Magicforce feels better to type on than any other cheap mechanical keyboard, though its keycaps and case don't look or feel as nice to type on as our top pick's. We recommend the Cherry Brown switches or the Gateron Brown switches, depending on what's available.
Buying Options
Buy from Amazon
The Qisan Magicforce 68-key model is the best budget mechanical keyboard. Its layout is similar to that of the Ducky One 2 SF, with dedicated arrow keys and a small navigation cluster, but it takes up a bit more horizontal desk space. The Magicforce is much more pleasant to type on than any other budget keyboard we've tested, thanks to its sturdy aluminum backplate and Cherry or Gateron switch options. (We recommend Browns.) But compared with our top pick, its case feels hollow and cheaper, and it has lower-quality ABS keycaps (unless you're lucky enough to snag one of the few with PBT keycaps). It also lacks a warranty. Even though the ABS keycaps are ugly, they're standard size, which makes them easy to replace with better ones.
Upgrade pick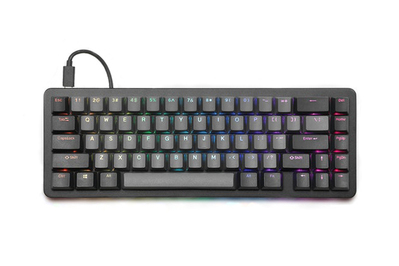 Drop Alt
The fancy choice
The Drop Alt offers the best typing experience and the most customization with hot-swappable switches and full programmability, but it's expensive.
Buying Options
$180 from Drop
$210 from Amazon
If you're willing to pay more for an even better typing experience and a keyboard that you can tinker with—but you don't want to learn how to solder—get the Drop Alt. It's a 68% keyboard just like the Ducky One 2 SF, but it offers superior build quality and a more ergonomically friendly and attractive design. Plus, the Alt is fully programmable and has hot-swappable switches, so you can try different switches without having to break out a soldering iron. (As with our other picks, though, we recommend starting with Cherry MX Brown switches.)
Also great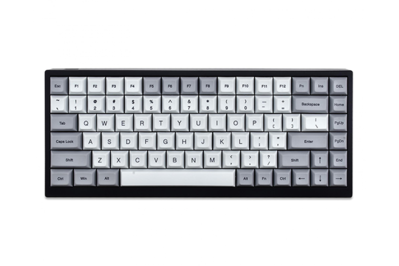 Vortex Tab 75
More keys
The Tab 75 has a full function row at the top but doesn't take up more horizontal desk space. It can work wirelessly and comes with Mac-specific keycaps.
Buying Options
$130 from MechanicalKeyboards.com
If you frequently use the row of function keys along the top of a keyboard, we recommend the Vortex Tab 75. It has more keys, yet it's no wider than our 65% and 68% picks, and it still provides a solid, satisfying typing experience. It's available with a variety of Cherry switches. The Tab 75 can also connect via Bluetooth, and it's the only one of our picks that comes with Mac-specific OS keycaps. It's difficult to customize, though most people don't need to program a 75% keyboard. But it doesn't come with a manual, its media keys aren't labeled, and its flat, DSA-profile keycaps can take some getting used to.
Also great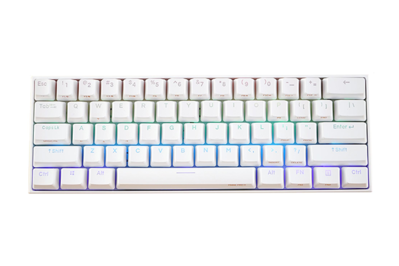 Obins Anne Pro 2
The most compact
The Anne Pro 2 is the easiest-to-program 60% keyboard, so it's the best starting point if you want an even more compact keyboard. Plus, it has wireless support.
Buying Options
$94 from MechanicalKeyboards.com
If you want an even more compact keyboard and you're willing to retrain yourself to use shortcuts to access arrow keys, get the Obins Anne Pro 2. It's by far the easiest 60% keyboard to program thanks to its straightforward, user-friendly software—this makes a huge difference on a keyboard that lacks frequently used keys. The Anne Pro 2 is available with a bunch of different switches, including Cherry MX Browns and Kailh Box Browns, and it can connect via USB-C or Bluetooth.
Unfortunately, availability is an issue with most great mechanical keyboards. Most are made in Taiwan or China and shipped to the United States in batches to be sold by specialty retailers such as MechanicalKeyboards.com. If our picks aren't available in the switches you want or with the keycaps you want, you can preorder at MechanicalKeyboards.com, keep an eye on that seller's incoming-shipments page, or set availability alerts on Amazon using a price tracker such as CamelCamelCamel or Keepa. If you can't wait that long for a new keyboard, take a look at the other great options we found during testing.
source: NY Times – Wirecutter