Our pick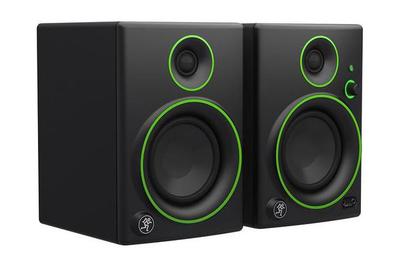 Mackie CR4BT
A great blend of form and function
The CR4BT speakers sound great, are easy to set up and use, and have a relatively small footprint. Plus, they can pair with your phone using Bluetooth.
We recommend the Mackie CR4BT computer speakers because they deliver a full, balanced sound, whether you're listening to bass-heavy rap music, ambient soundscapes, or conference calls. Intuitive design choices—like placing the volume wheel on the front and allowing either the left or right speaker to connect to the power source—make this system easy to set up and use throughout your day. Though the speakers are a bit larger than others we tested, they're still small enough that they won't take over your desktop. We aren't crazy about the neon green accents on the speaker's face, though; we would prefer different color options.
Budget pick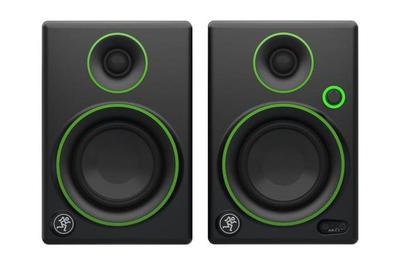 Mackie CR3
Good sound but no Bluetooth
The CR3 speakers are user-friendly and perform well, though they lack any wireless connection options.
If you're willing to compromise a bit on sound quality and connection options to save money, consider the Mackie CR3 set. It has most of the same convenient features and design elements as the Mackie CR4BT but in a smaller form with a smaller woofer—which means the speakers can't play quite as loud or as deep as the CR4BT. The CR3 also lacks Bluetooth, so it doesn't connect as easily to your mobile devices. Still, these are by far the best-sounding computer speakers we've tested in this price range and a significant upgrade for anyone who has been using their computer's built-in speakers.
Upgrade pick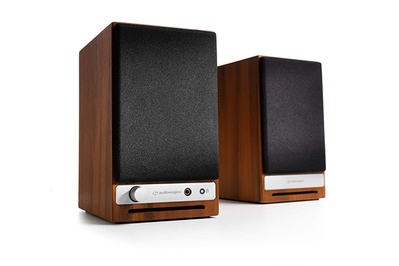 Audioengine HD3
Excellent sound in a small, elegant package
These petite speakers look and sound great and they can connect to just about any device, but they carry a high price.
For the music lover who demands better audio quality—and is willing to pay more to get it—the Audioengine HD3 set is the closest thing we've found to a perfect set of computer speakers. It has substantially better sound quality and a smaller, more elegant design than the Mackie CR4BT. Plus the HD3 has a more comprehensive connection panel, with both analog and USB inputs and a subwoofer output for people who want to add a subwoofer. Bluetooth with aptX HD is also built in. However, the HD3 costs twice as much as the CR4BT.
Also great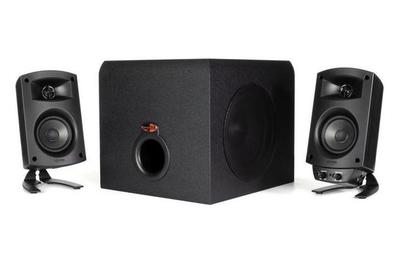 Klipsch ProMedia 2.1 THX
If you want a subwoofer
The ProMedia 2.1 system comes with a subwoofer to improve bass response in movies and video games and it has a clean, simple design.
Buying Options
$150
from
Klipsch
(pair of speakers and subwoofer)
If you watch a lot of movies or play cinematic video games at your desk, you might prefer a computer speaker system that includes a subwoofer to reproduce deep bass notes. Of all of the 2.1-channel systems we tested, the Klipsch ProMedia 2.1 THX set had the best sound quality, about as full and balanced as the Mackie CR4BT but with more potential bass response. Dialogue and acoustic instruments sounded clear and crisp, and the subwoofer effectively filled in the low end. The speakers have a very small on-desk footprint and sport a subdued but stylish design, but the connection options are limited.
source: hafta-ichi.com/wirecutter/