Our pick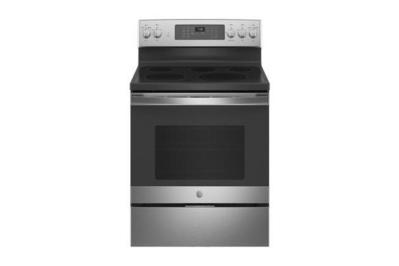 GE JB735 Stainless Steel
The best electric stove
This GE offers the best balance of build quality and cooking features in an affordable electric range, and it's available in more finishes than most.
The GE JB735 offers as much space in the oven and versatility on the cooktop as any electric range at this price. The smooth cooktop is sensibly laid out, with its two strongest and most-versatile heating elements in the front row, where they're easiest to reach. The 5.3-cubic-foot oven is big enough for a large 26-pound turkey or 15-by-20-inch baking stone, and it has a convection mode and two types of self-cleaning modes (high-heat or steam-and-wipe). The previous version of this range, the JB750, received largely positive reviews and seemed generally reliable, so we're optimistic about the current model. Keep in mind, however that's because it's new, we're as yet unsure how it will perform in the short- to medium-term, and there aren't many reviews so far on retail sites that we can draw conclusions from. We'll monitor customer feedback for evidence of widespread defects and update the guide as we know more. We also wish that the oven came with a third rack.
Runner-up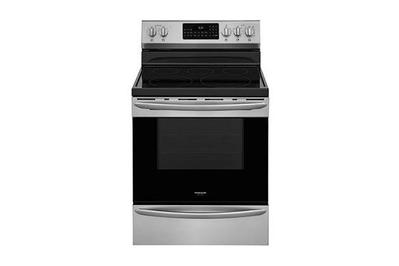 Frigidaire Gallery GCRE3060A
Similar features, fewer reviews
The Frigidaire has features similar to the GE JB750's, though it hasn't been available as long, so we know less about its reliability.
If the GE JB735 is unavailable or you just don't like the brand, the new Frigidaire Gallery GCRE3060A is a good alternative. Both stoves' specs and features are similar, and on paper they don't have any significant advantages or disadvantages compared to each other. But the Frigidaire is only available in two finishes (down from five). It hasn't been available for as long, either, so it has fewer owner ratings, which makes us a little less confident in its quality and reliability.
Budget pick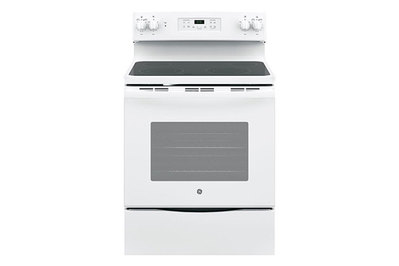 GE JB645DKWW
Cheaper but still great
GE makes a lot of great cheap ranges, and this one has the best features for the price.
Buying Options
$50
from
Abt
May be out of stock
If you don't want to spend quite so much on a stove, we recommend any electric, freestanding GE range that fits your budget. The GE JB645 stands out as a particularly good balance of cooking features and build quality for an affordable price. It has a smooth cooktop with an array of power elements you'd expect to find in much pricier stoves plus a sizable 5.3-cubic-foot oven that's bigger than most competing models. There's no convection mode, typical for stoves this cheap. But it comes with high-heat self-cleaning, which is uncommon among similar ranges.
Also great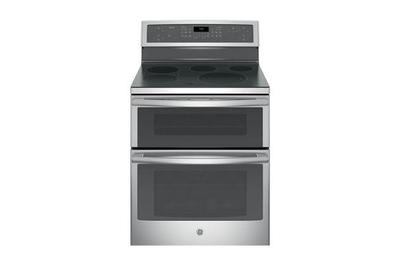 GE Profile PB960
Great double-oven range
This double-oven range has one of the largest lower ovens we've seen in this quirky product category, and one of the strongest power-burner elements we've seen on any freestanding range.
Buying Options
$1,712
from
Appliances Connection
If you're looking for a double-oven range, we'd suggest the GE Profile PB960. It has best-in-class cooking features, including as powerful a cooktop as we've seen on any freestanding range, and a lower oven that can fit bigger birds and roasts than other two-cavity models.
source: hafta-ichi.com/wirecutter/