Our pick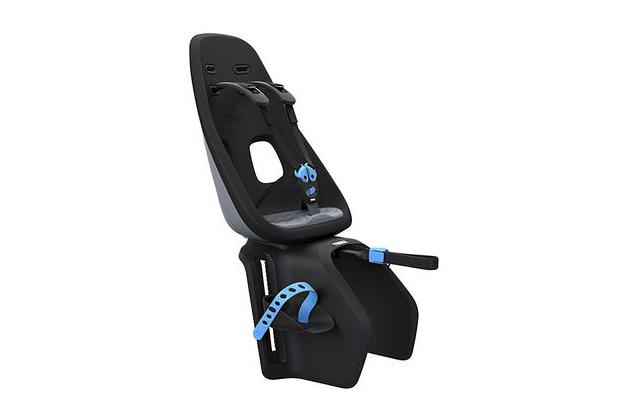 Thule Yepp Nexxt Maxi
The best rear bike seat for kids
No other kids seat mounts as easily or is as lightweight as this. Bonus points for a newly designed kidproof safety buckle.
Buying Options
*At the time of publishing, the price was $220.
Of the seven rear bike seats we tested, the Thule Yepp Nexxt Maxi fell right in line with its beloved predecessor, the Thule Yepp Maxi—and then took it a step further. At 5.8 pounds, it's lighter than the next lightest seat in our test pool (the Yepp Maxi) by 2.6 pounds, making for smoother bike-handling. Its seat material, a shock-absorbing expanded polypropylene, is similar to the lightweight foam interior of a helmet—and it also happens to be easy to keep clean. Thule redesigned the safety buckle on this seat, too, trading out the common pinch-and-pull mechanism (which many kids master before age 3) for a magnetic buckle that requires a hefty swipe of a lever to release it.
Similar to the Yepp Maxi, the Nexxt Maxi mounts in a jiff. However, you'll need a rack on your bike (we used the one we already had). One of our testers (who assembled most of these bike seats while sleep-deprived from recently having a newborn) said, "[Installing this seat] just doesn't get any easier." The Yepp Nexxt Maxi is also weather-repellent, comfortable for kiddos (there's plenty of padding in the seat), easily adjustable, lockable to the rack, and built with foot rests that grow with your kid. None of the other seats we tested did all of these things with such confidence-inspiring quality while also staving off the tippiness that inherently comes with rear seats. The Thule Yepp Nexxt Maxi is also available in a frame mounted version, which we plan to test soon.
Runner-up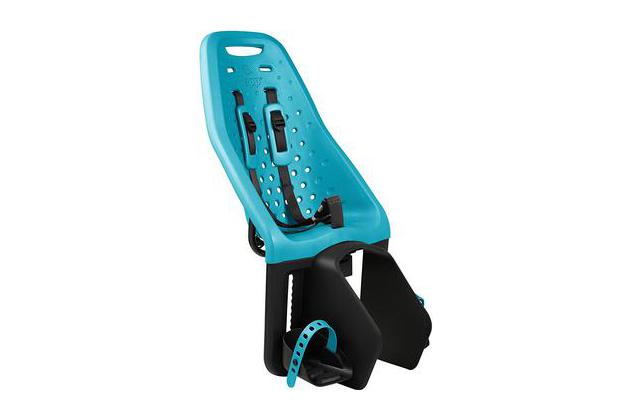 Thule Yepp Maxi
A classic backup option
Tried and true, the Yepp Maxi has been a fan favorite for years. It's light, highly visible on the road, and kids stay comfy in it.
Buying Options
*At the time of publishing, the price was $200.
The Thule Yepp Maxi rear bike seat has long been a fan favorite for family biking enthusiasts, and for good reason. It's the older version of our top pick, but if our top pick is sold out or you can't find it, this model is a great backup option. The Yepp Maxi is durable, comfortable, weather-repellant, and comes in eye-popping colors. It requires a rack as well as an adapter plate, but both the plate and the seat are easy to attach. The seat is also available in a frame-mounted version.
Offering smooth riding at 8.4 pounds (for the rack-mounted version) or 10.1 pounds (for the frame-mounted one), the Yepp Maxi is a little heavier than the Nexxt. That increases the level of handling required, although only by a smidge. If this seat had the same childproof buckle as the Nexxt, we might even reconsider its ranking and make it our main pick because of its ability to attach to more bikes.
Budget pick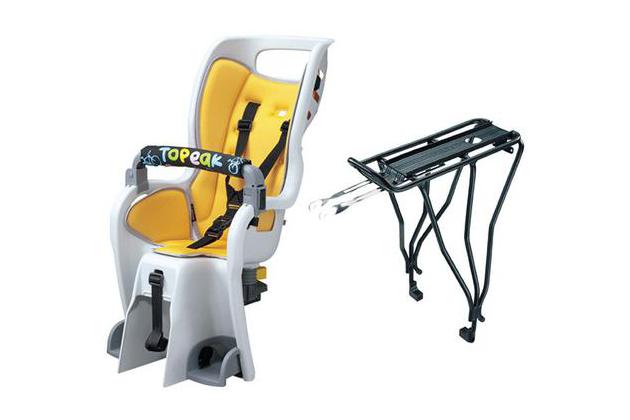 Topeak BabySeat II & BabySeat II Rack (Disc)
An affordable—and safe—option
The BabySeat's wraparound design adds a confidence-boosting level of armor. This seat comfortably fits tall kids, too, all at a good price.
Buying Options
*At the time of publishing, the price was $140.
The Topeak BabySeat II & BabySeat II Rack (Disc) is bigger and heavier (it's nearly 14 pounds) than our top pick and runner-up. However, this budget seat's wraparound design hugs your child deeply on three sides, minimizing the possibility of road rash should an accident occur. It's deep enough to accommodate a helmet comfortably, too. (You have to harness your child sans helmet first, but more on that later.)
Installing the BabySeat takes some elbow grease, but of all of the thrifty bike seats we tested, we felt most secure with how this rack attached to the bike using the bike's eyelets instead of adapters. We also liked that the seat easily switched between bikes, unlike a few of the other less expensive rack-mounted bike seats we tried. We're recommending the version of this seat that comes with a rack built for disc brakes because carrying kids around means you need good stopping power (read: disc brakes), but the seat is also available for bikes without disc brakes. (The disc version should work with most conventional brakes, too.) Bonus: Topeak makes other accessories that can attach to either rack, too, like cargo boxes and baskets for when you aren't using the kids seat.
Also great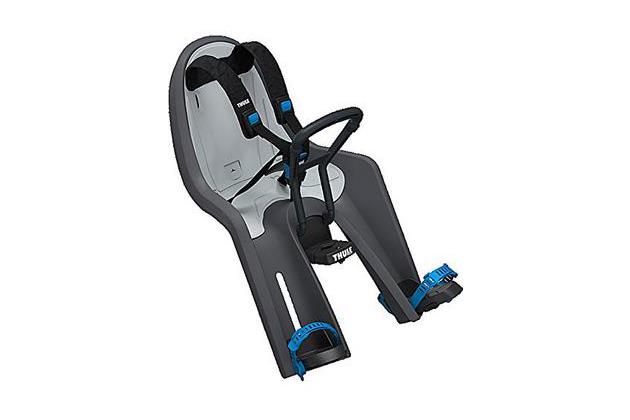 Thule RideAlong Mini
A front bike seat for little kids
A best-seller from Thule's lineup, the RideAlong Mini fit more testers and bike setups than any other front seat we tested.
Buying Options
*At the time of publishing, the price was $170.
We also tested six best-selling front bike seats—from budget-level to top dollar. "The front seats are my favorite for kids under 3 years old," said pediatrician Julian Davies, "because they make the bike more stable, don't require spoke protection and are more social and fun. Having your toddler between your arms, talking to her and having it feel like it's her bike is unbeatable."
After testing and research, we determined that the Thule RideAlong Mini was our favorite front bike seat. It's lightweight, easy to install, and cushioning for little ones. At 5-foot-2, I found that many of the front seats I tested jabbed me in the chest or forced my knees to splay out to avoid their bulbous shapes. But the Thule RideAlong Mini fit just right. Plus, we loved that the straps and footrests were adjustable enough to grow with our child. (Until she's too lanky to ride in front, that is. Though the seat has a 33-pound carrying capacity, our 29-pound 3-year-old was already feeling cramped.)
source: hafta-ichi.com/wirecutter/