Our pick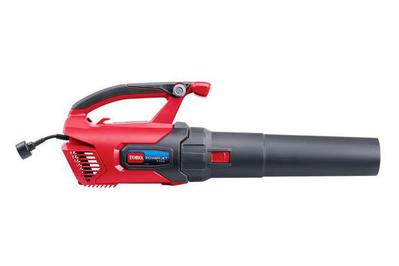 Toro PowerJet F700
The best leaf blower
The electric Toro F700 is light, with an easy one-handed speed control, and it moves leaves with a fury. At less than $60, it's a deal—as long as being tied to an outlet works for your property.
Buying Options
*At the time of publishing, the price was $63.
The Toro PowerJet F700 is the most powerful electric blower we've found in six years of testing—in fact, it's more powerful than most of the gas blowers we've used. It's like an air bazooka. It gets under dense, damp, or matted leaves to lift them and move them forward. We found the simple one-handed interface easy to use, and the curved handle gave us flexibility in positioning the angle of the airstream. The Toro also provides a second pommel grip at the front of the handle, which is a good thing because the airstream was so powerful in our tests that we sometimes relied on a second hand for better control. At a typical price less than $60, it's one of the best-priced blowers you can get—it's cheaper than most other electric models, and most cordless or gas models can easily cost $200 more. But it has to be the right fit for your property: It's tethered to an outlet, which limits range to about 100 feet or less, and if you also need to buy an outdoor extension cord to go with it, that'll cut the cost savings down a bit.
Runner-up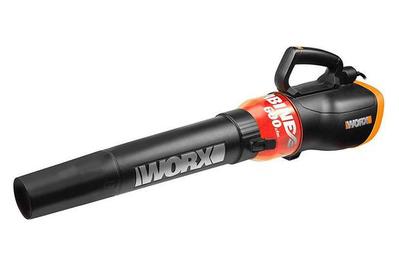 Worx WG520 Turbine 600 Leaf Blower
An excellent corded alternate
The Worx WG520 is very similar to the Toro F700, just not as powerful.
Buying Options
*At the time of publishing, the price was $50.
If the Toro F700 isn't available, we like the Worx WG520 Turbine 600 Leaf Blower, another powerful corded model. They're very similar, but the Worx, a former top pick in this guide, is a little less powerful and doesn't have the second handle. At around $50, it's typically priced about the same as the Toro, and in other minor ways the two feel essentially interchangeable.
Also great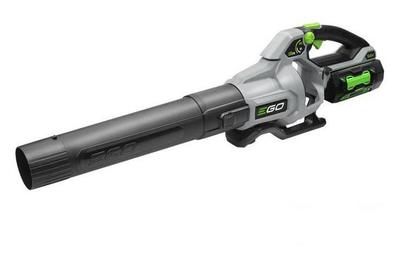 Ego LB5804 Power+ 580 CFM Blower
The most powerful cordless blower
The Ego's 30-minute run time is the best (by far) among cordless blowers we've tested. It has easy-to-use controls, a lot of power, and a precise airstream—but it's a little heavier than our corded picks and a lot more expensive.
Buying Options
*At the time of publishing, the price was $330.
If you have to blow beyond the reach of a 50- or 100-foot extension cord, get the cordless battery-powered Ego LB5804 Power+ 580 CFM Blower. It has, by far, the longest run time of any cordless blower we've tested, reaching the 31-minute mark on high (the next-highest run time is less than 25 minutes). It doesn't have the raw leaf-blasting power of the corded models, but in our tests its more focused airstream was better at getting under a dense mat of wet leaves, and its turbo button can produce an extra burst of power. The downsides: weight and cost. At around 10 pounds, it nearly doubles the Toro or Worx's heft, and at a typical price over $325, the Ego is very expensive—much more expensive than any other cordless handheld we looked at. For the money, however, you're getting the absolute best combination of power, portability, and ease of use, and it's an especially smart investment if you plan to expand your collection of Ego's great system of lawn tools, including lawn mowers and string trimmers.
Also great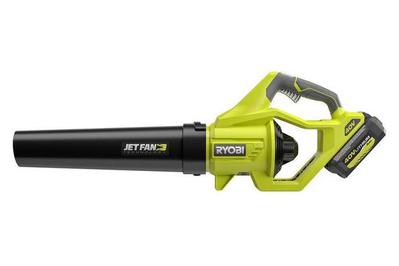 Ryobi RY40460 40V 500 CFM Jet Fan Blower
Another good cordless option
This cordless Ryobi doesn't quite match the run time and power of the Ego LB5804, but the least expensive cordless tool we tested performed well enough, and it's a great value.
Buying Options
*At the time of publishing, the price was $160.
If you know you need a cordless leaf blower but the Ego LB5804 is either unavailable or too expensive, we recommend the Ryobi RY40460 40V 500 CFM Jet Fan Blower. It doesn't have the straight-up power of the Ego, and it wasn't as good in handling the mat of wet leaves in our tests, but it was an effective leaf mover under regular dry conditions. Also, the controls aren't as polished (there's no lock-on switch), and its run time isn't as long (but at almost 25 minutes, it's still better than most). At around $150 at the time of our testing, the Ryobi was the least expensive cordless blower we looked at, and we think it's a great value compared with the competition. Ryobi's system of lawn tools is solid but not as polished as Ego's—and this tool's battery doesn't work on Ryobi's drills or other power tools.
Also great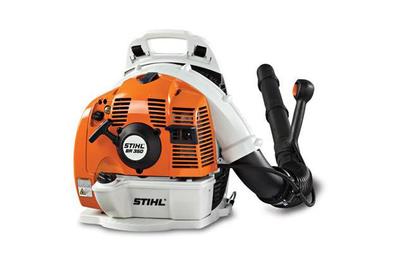 Stihl BR 350
The midsize sedan of backpack blowers
For properties more than an acre in size with lots of wooded areas, the Stihl BR 350 offers useful design touches and moves leaves better than the competition.
Buying Options
Buy from
Stihl authorized dealers
If your property is more than an acre and has densely wooded areas, and if you often need to blast a heap of leaves 100 feet across a field, we suggest the Stihl BR 350. You can certainly find more powerful blowers, but after we conducted a test of the Stihl against four competitors and put it through four years of long-term field testing by pro landscapers, our experts agreed that the midrange BR 350 has all the power anyone would really need. The BR 350 is chock-full of smart design features, such as an upward-oriented gas fill and a well-protected gas cap. It also has a convenient spot for placing your hand while you're pull-starting. The Stihl is gas powered, so you'll have to properly use, store, and maintain a two-stroke gas engine (and diagnose and fix any issues that arise). It's powerful and totally portable, but you truly need to have a lot of ground to cover to justify purchasing this blower. It's also available only at authorized Stihl dealers, not online.
source: hafta-ichi.com/wirecutter/