Our pick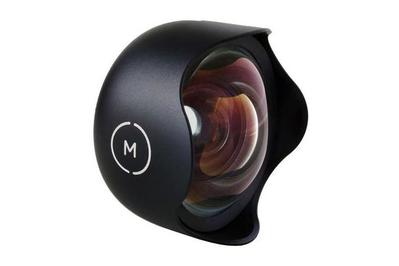 Moment Wide 18mm Lens
Best wide-angle lens for iPhone
Moment's wide-angle lens delivers crisp, clear photos with a wider angle of view than a phone's fixed lens offers, without adding noticeable distortion.
Buying Options
*At the time of publishing, the price was $120.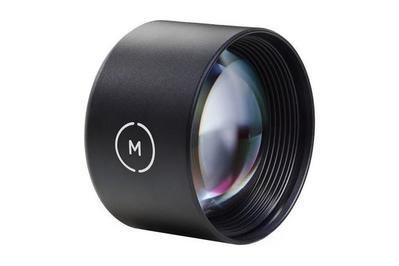 Moment Tele 58mm Lens
Best telephoto lens for iPhone
This telephoto lens gives you a 2x zoom on your camera and produces high-quality results that are sharper than those of a lot of other accessory lenses.
Buying Options
*At the time of publishing, the price was $120.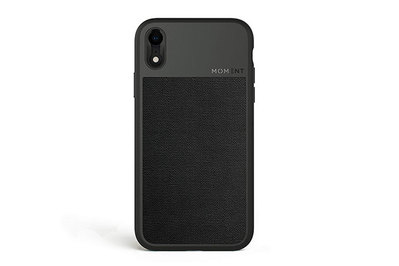 Moment Photo Case
Best photography case for iPhone
The Moment case is a smooth and effective mounting system for our recommended lenses. Because it's so easy to use and protective, we didn't mind keeping the case on even without the lenses.
Buying Options
*At the time of publishing, the price was $40.
For avid smartphone photographers concerned about high-quality results and a well-designed mounting system, Moment lenses are worth the investment. Unlike cheaper plastic lenses, which can slightly degrade your images, Moment's lenses use large glass optics that create sharp images with little to no distortion across the entire frame. The Wide 18mm Lens expands your iPhone's field of view just enough to feel like a fresh perspective (about 0.63x magnification). The 2x Tele 58mm Lens doubles the optical zoom of your iPhone's main lens without degrading the image quality as digital zoom can.
Both lenses require a Moment Photo Case, which is an additional $30 purchase. Mounting and unmounting lenses on this case offers the smoothest and easiest experience among the lens systems we tested—you just twist the lens in or out, similar to doing so on a DSLR—and the lenses remain firmly attached. We've preferred caseless lens systems in the past, but the Moment cases are so protective, stylish, and easy to use that we didn't mind keeping them on, even when we weren't using the lenses.
Compatible phones: Apple iPhone 6 through 11/11 Pro/11 Pro Max; Samsung Galaxy S8+/Note8 through S10/S10+/S10e/Note10+; OnePlus 7 Pro; and Google Pixel/Pixel XL through Pixel 4/Pixel 4 XL
Runner-up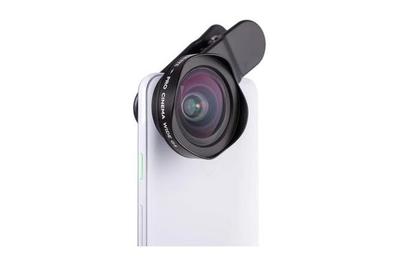 Black Eye Pro Cinema Wide G4
A more affordable glass optic
Although it can't beat the quality that Moment provides, Black Eye offers glass optics that can clip on to most any device, for less money.
Buying Options
*At the time of publishing, the price was $90.
Black Eye's Pro Cinema Wide G4 might be just the ticket if you're looking to buy good-quality glass optics without making a financial commitment to a system (as you would with our top pick). Its clip-on mounting method allows for using its lenses with a wide array of smartphones and on both the front- and rear-facing cameras. Black Eye also offers a case that attaches the lens more securely to your phone, but we found its hard plastic material slick in the hand.
Compatible phones: most any phone as a clip-on; case available for Apple iPhone 7/7+ through X/XR/XS/XS Max
Runner-up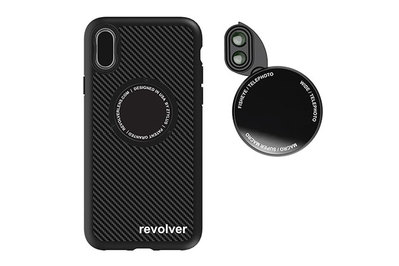 Ztylus Revolver M Series Lens Kit
Best variety of lenses in a compact format
This six-in-one system can't match the image quality of Moment or Black Eye lenses, but it does offer a nice variety of lenses in a small, secure package with a case, all for about half the price of one Moment lens and case.
If you're looking to capture everyday snapshots that you don't need to be photographically perfect, the Ztylus Revolver M Series Lens Kit, a sleek system with a protective case, can broaden your mobile-photography possibilities. Six tiny lenses—a wide-angle/telephoto, macro/super-macro, and fish-eye/telephoto combo—are contained in a circular disc that magnetically attaches to the included Ztylus case. Image quality is on par with that of other plastic lens attachments we've tried, but if you're just looking for a fun twist on your social media snaps, especially when you're traveling, this Ztylus system is a smartly designed option that's more affordable than a Moment lens and case.
Compatible phones: Apple iPhone 7/7Plus through XR/XS/XS Max; Samsung Galaxy Note8/S9/S9 Plus; Huawei Mate 10 Pro
Budget pick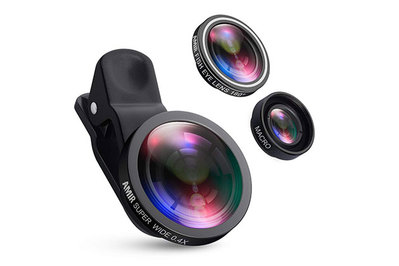 Criacr Amir 3-in-1 Photo Lens Kit
Best bargain clip-on lens kit
This set is a cheap way to add variety to your smartphone camera, offering a fish-eye, a macro, and a wide lens that's better than most in this price range.
The Criacr Amir 3-in-1 Photo Lens Kit set stands out from similar options because its wide lens (0.4x magnification) provides a useful field of view that goes beyond what your smartphone can capture without veering into fish-eye territory—similar to a GoPro. In terms of image quality, these lenses are a noticeable step down from those of the Ztylus Revolver M Series Lens Kit, with blurring throughout the frame, including the center. They are also easier to lose and damage due to consisting of more tiny parts. But they are a fun and affordable way to experiment prior to committing to a more expensive setup.
Compatible phones: Apple iPhone 4/4S through 11/11 Pro/11 Pro Max; Samsung Galaxy S4/Note 4 through S7/S7 Edge; Google Pixel and Nexus 5 through 7; LG G3 through 5; BlackBerry Playbook and Torch; HTC One, SV, Flyer, Inspire 4G, Sensation First, and Desire; Motorola Droid and Razr
Source: NY Times – Wirecutter