Join Hafta-Ichi to Research the article "The Best Portable Chargers and Power Banks for Phones and Tablets"
Our pick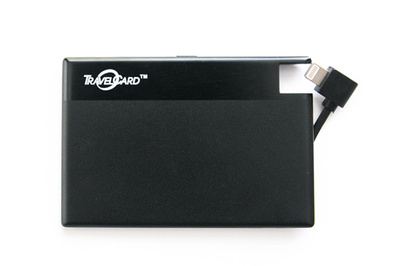 TravelCard Charger
The best portable charger for a little battery boost
This ultraslim power bank fits in a wallet or pocket, can charge most phones to at least a third full, and is available in Lightning, Micro-USB, and USB-C versions.
The TravelCard Charger is the best portable charger for someone who wants to always have an emergency boost of power on hand. It has the lowest capacity of any power bank we've tested—it's able to charge most phones only to around 30% to 50% full from empty—but it's unmatched in weight (2 ounces) and size. It's bigger and thicker than the average credit card but not by much, fitting easily in a wallet or pocket. It has a built-in USB-A cable for you to charge it up and a built-in output cable (either Lightning, Micro-USB, or USB-C, depending on which version you get) to top off your phone or another handheld device with a little boost of power.
Our pick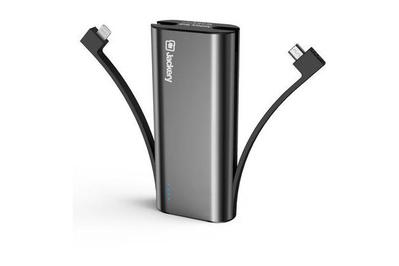 Jackery Bolt
The best power bank for everyday carry
This portable power bank has two built-in cables (Micro-USB and Lightning), can charge most smartphones twice from empty to full, and fits comfortably in most pants pockets or purses.
The Jackery Bolt has been our favorite power bank to carry every day, for several years running, for a reason. It's as powerful as it is portable, fitting a high-capacity battery—capable of nearly two full charges for the latest smartphones—into a small package. You can also easily slip it into a small purse or most pants pockets—except maybe your tightest-fitting jeans. The two built-in output cables (Micro-USB and Lightning) mean you don't need to carry a cable to charge most devices, but the Bolt also has a fast-charging USB-A output port if you want to use your own longer cable. It comes with a built-in flashlight, which is a neat bonus.
Our pick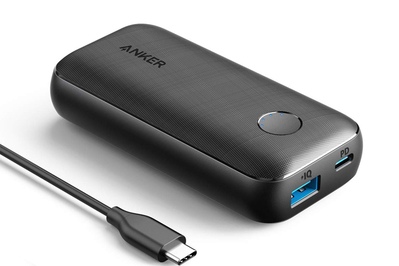 Anker PowerCore 10000 PD Redux
The power bank with the fastest possible charge
Able to charge even large phones like the iPhone XS Max or Samsung Galaxy S9+ from empty to full almost three times, this soap-bar-sized power bank offers the fastest charging speeds of any model we tested.
The Anker PowerCore 10000 PD Redux lacks the built-in cables that set the Jackery and TravelCard models apart, but its capacity (10,000 mAh, or enough to fully charge an iPhone XS more than three times) is a lot higher. Plus, in addition to a USB-A output port, it has a USB-C Power Delivery (PD) port that enables charging (both input and output) up to 18 watts—nearly twice as fast as most power banks we've found with built-in cables. This means less time waiting around for your phone, tablet, or other device (and the power bank itself) to charge. It's about the same size and weight (6.8 ounces) as the Jackery, and its rounded edges make it even easier to slide into a pocket or pouch for portable power on the go.
Our pick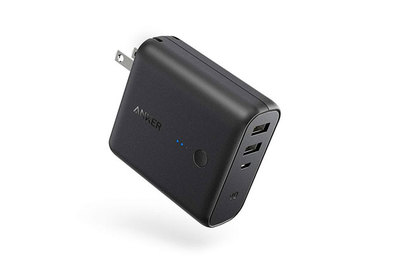 Anker PowerCore Fusion 5000
The best power bank that doubles as a wall charger
This power bank charges itself from a fold-out AC plug or a Micro-USB input port, and it powers your devices on its two USB-A output ports.
The Anker PowerCore Fusion 5000 is handy if you want a single, reliable charger that you can plug in the wall to charge your devices overnight and then pack up and carry with you during the day. Its 5,000 mAh capacity is similar to that of the Jackery Bolt, enabling you to fully charge a phone like the iPhone XS more than once, and its two USB-A ports offer fairly fast charging for two devices at a time. We also appreciate that it offers Micro-USB input in addition to a fold-out AC plug—an important feature that's missing in other two-in-one models we considered. If you want a power bank that doubles as a wall charger, this is the best option we've found.
Hafta Ichi
Source: The NY Times
Keyword: The Best Portable Chargers and Power Banks for Phones and Tablets