Our pick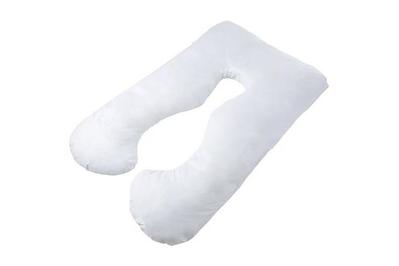 Bluestone Full Body Contour U Pillow
The best pregnancy pillow
This pillow supported the belly, back, and neck better than any other pillow, and can work in more sleeping positions (with less rearranging) than most. It costs less than others, too—but it's just as huge.
Buying Options
*At the time of publishing, the price was $30.
Though neither the fluffiest nor the fanciest pillow, the Bluestone did a better job at providing all-in-one neck, belly, and back support than any other pillow we tested. The relatively flat, sloped sides wedge more comfortably under a pregnant belly than thicker, poufier pillows—this lower density was really what set the Bluestone apart from the excessively thick fluff of almost every other competitor. The symmetrical Bluestone lets you change positions during the night without having to move or rearrange the pillow, which wasn't the case with most other pillows we tested. The horseshoe-like profile hugs and supports the lower back better than other shapes, and it can also be flipped around so you can use your own head pillow, which many pregnancy pillows can't accommodate. It's also one of the most affordable pregnancy pillows we tested, which is nice because you'll use it only for a few months. It's huge, though, like most of its type, and the cover is slightly noisy.
Also great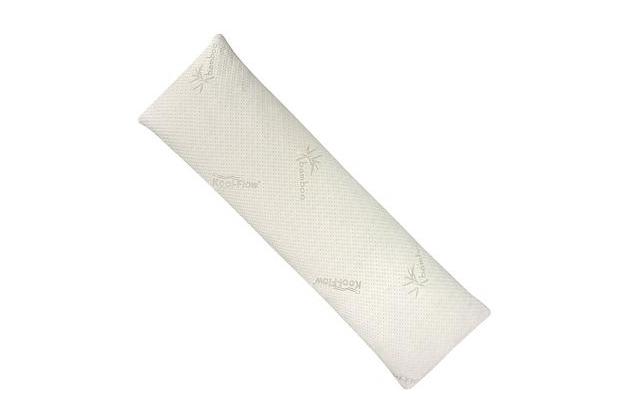 Snuggle-Pedic Memory Foam Body Pillow
The best body pillow
It's smaller than our pick and supports only one side, but this shredded-memory-foam body pillow was better than its competitors at bending between your knees and ankles or wedging beneath your belly or back.
If your bed would be too crowded with the Bluestone, or if you simply prefer a narrower pillow, we recommend the Snuggle-Pedic Memory Foam Body Pillow. This is a long, straight pillow, so it won't simultaneously support as many areas as our U-shaped pick. But the Snuggle-Pedic's malleable memory-foam fill molded to our bodies better than the down-alternative fill of the other popular body pillows we tried. The Snuggle-Pedic was also much more flexible than other body pillows we tested, so it'll bend and curve with your body, letting you change positions easily during sleep. It felt cool at night with a knit bamboo cover, similar to those on our favorite bed pillows. And though it was the most expensive body pillow we tried, the Snuggle-Pedic comes with a 20-year warranty, and if it's not firm enough or soft enough for you, you can send it back and the company will add or remove fill, at no extra cost.
source: hafta-ichi.com/wirecutter/