Our pick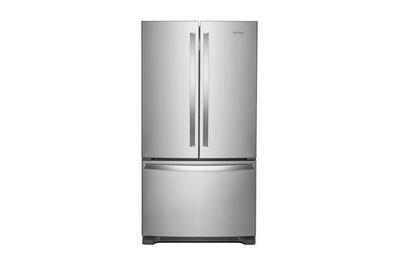 Whirlpool WRF535SMHZ
Basic style, convenient layout
This simple, solid, and big refrigerator represents the most popular size and style right now. While it lacks a few convenient features like an ice dispenser in the door, it also has fewer parts that can break.
Buying Options
$1,700
from
Appliances Connection
The 36-inch-wide, standard-depth Whirlpool WRF535SMHZ has a basic feature set, which—along with its sturdy build—bodes well for reliability. As a French-door model, it has a top-mounted, full-width refrigerator compartment, offering plenty of space to store fresh foods at eye level, where you're less likely to forget about them. It's a big fridge, with enough capacity for a household of six. We haven't seen evidence of any serious quality or reliability issues. While it doesn't have a through-the-door ice or water dispenser, it does have an ice maker in the freezer.
Upgrade pick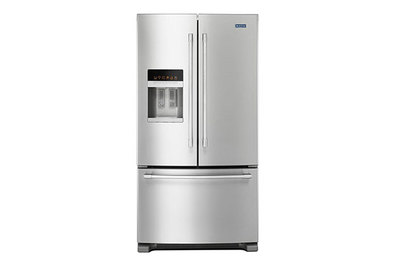 Maytag MFI2570FEZ
Door dispenser, nicer handles
This is another basic French-door fridge, but with a door dispenser for water and ice, and round, pro-style handles for a sleeker look.
Stylish and spacious, this 36-inch-wide Maytag MFI2570FEZ is similar to the Whirlpool WRF535SMHZ, but it adds a through-the-door ice and water dispenser, if that's a feature you don't want to live without. Its round, pro-style handles also lend it a more-sophisticated look than most fridges at this price. Sturdy glass shelves make the most of a 25-cubic-foot interior, which is roomy enough to hold the groceries for a family of six. And the price is entirely reasonable for a refrigerator of this caliber.
Also great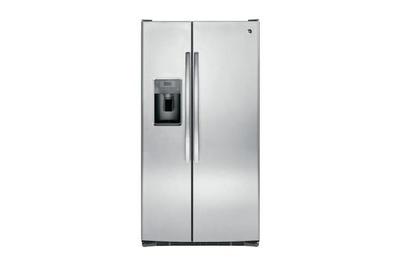 GE GSS25GSHSS
Lower price, tidy freezer
This reliable, affordable GE side-by-side model is a great option for people who eat more frozen food and prefer an organized freezer layout.
Buying Options
$1,433
from
Appliances Connection
Side-by-side fridges aren't as popular as they used to be, but for certain households—particularly those that favor frozen foods and a tidier freezer—they may be the best choice. We think the 36-inch GE GSS25GSHSS is the best affordable side-by-side fridge. The full-height freezer with shelves and bins makes it easier to get at frozen foods than the low-to-the-ground, bucket-style freezers in French-door fridges. It also comes with an in-door water and ice dispenser, and its shelves and drawers are easy to adjust compared with those of most fridges.
Budget pick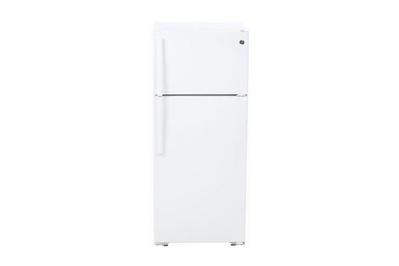 GE GTS18GTHWW
A reliable, no-frills fridge
Need a cheap fridge that just works? This GE is among the least likely to have reliability issues.
On a budget, we'd get the GE GTS18GTHWW, a 28-inch-wide, top-freezer model that is usually one of the cheaper fridges for the size. It has a sturdier feel and the same basic features as similar models do, and its owner-review history suggests it's less likely to have a factory defect or other reliability issues. At 17.5 cubic feet, it's just big enough to hold the basics for a family of four. This is also a solid pick if you're looking for a second fridge to keep in the basement or garage, or if you need to provide one for tenants.
If you need a different size or want a different style than what we've recommended so far—or you're not even sure where to start—check out our refrigerator buying guide. Even if we can't recommend a specific model in the configuration that you want or need, the guide should help you figure out what to look for and how to think critically about any fridge you're considering.
source: hafta-ichi.com/wirecutter/