Join Hafta-Ichi to Research the article "The Best Smart Home Sensors for HomeKit"
Our pick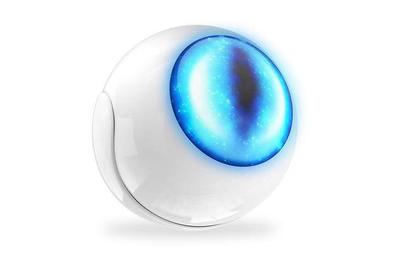 Fibaro Motion Sensor
Best motion/temperature sensor
Fibaro's eye-catching sensor is quick to pick up motion. It also senses temperature and boasts a 30-foot range.
The Fibaro Motion Sensor can detect when a person enters a room and then trigger other devices or actions, but unlike competing devices it also detects light, temperature, and vibration, giving you lots of options with which to trigger smart-home automations (although you'll need to use Fibaro's app to access advanced settings). Its innovative design and excellent mounting options make it the easiest sensor to discreetly tuck into any corner of your house.
Our pick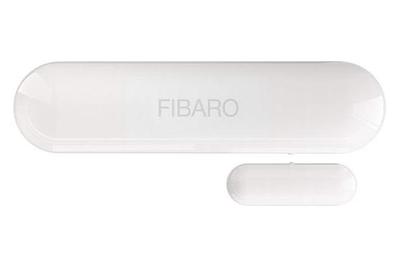 Fibaro Door/Window Sensor
Best contact/temperature sensor
A discreet design, quick response times, and the addition of a temperature sensor make Fibaro's contact sensor a top pick.
When installed on doors, windows, or cabinets, the Fibaro Door/Window Sensor responds instantly when something opens or closes, but unlike competing models it comes in seven different decor-friendly shades instead of just white and has an LED light that blinks to show whenever it's activated. It also includes temperature monitoring, a useful extra feature that enables even more potential interactions with other connected smart devices.
Our pick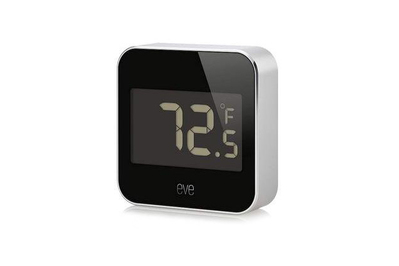 Eve Degree
Best temperature/humidity sensor
The Eve Degree is the only temperature sensor we tested that's weatherproof. Its e-ink screen displays the temp in big, readable numbers. It also measures humidity, a key factor for tracking optimal conditions.
The Eve Degree has a sleek design and can mount on the wall, and it's the only temperature sensor that displays readings on an e-ink display, which is especially convenient—you don't need to open a smartphone app just to check the temperature. It's also the only model we tested that measures humidity, temperature, and air pressure, making it especially suited to monitoring conditions in a sensitive room such as a nursery or wine cellar. It works well for triggering automations based on weather and temperature changes, but you'll need to use Eve's own app to access some of its cooler settings.
Budget pick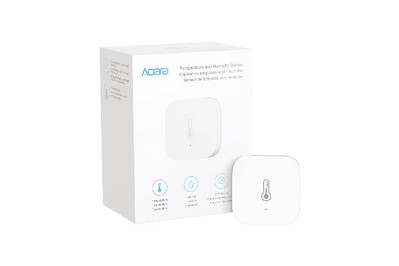 Aqara Temperature Sensor
A low-cost temperature sensor
The smallest temperature sensor we tested is easy to install but also requires using an Aqara Hub.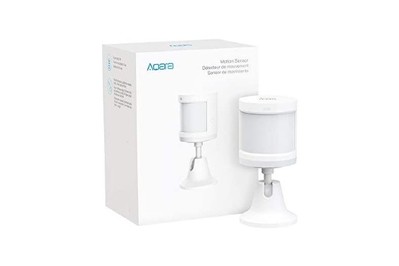 Aqara Motion Sensor
A low-cost motion sensor
Though it's super cheap and works well, this motion sensor is on the large side when used with its mount and requires using an Aqara Hub.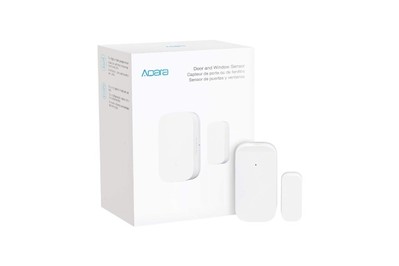 Aqara Contact Sensor
A low-cost contact sensor
This tiny contact sensor is far smaller and cheaper than a lot of other models but also requires using an Aqara Hub.
The Aqara line of sensors, including the Aqara Temperature Sensor, Aqara Motion Sensor, and Aqara Contact Sensor, have a simple, unobtrusive design, worked reliably in our testing to trigger Scenes and Automations quickly, and are able to be placed further from the HomeKit hub than any other sensor we tested—thanks to relying on Zigbee wireless connectivity rather than Bluetooth. Using Aqara sensors does require the purchase and use of the Aqara Hub to work, which adds to the cost (and its housing is poorly designed, so when plugged in it covers both electrical outlets). And it's worth noting that in our testing the bridge required a reboot a few times. For the price though, any of these Aqara sensors are a very good option, and if you plan to use several sensors in your home, the added cost of the bridge will still save you money compared to our more expensive picks.
Hafta Ichi
Source: The NY Times
Keyword: The Best Smart Home Sensors for HomeKit