Our pick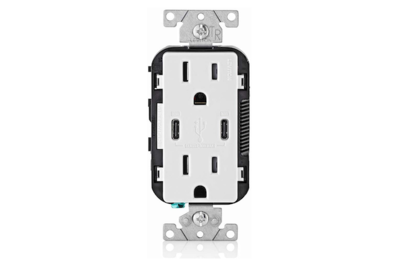 Leviton T5635
The best wall outlet with USB-C
This is the only outlet with two USB-C ports that can charge at up to 30 watts, perfect for everything from phones to small laptops and tablets.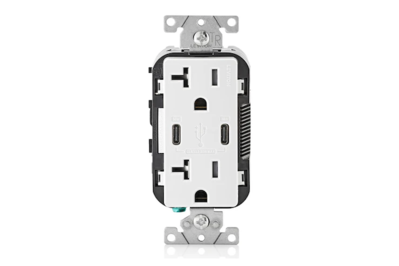 Leviton T5835
The best 20-amp wall outlet with USB-C
This version has the same USB ports but offers AC ports powerful enough for power tools, space heaters, and other high-draw appliances.
The Leviton T5635 is the only USB-equipped wall outlet that can charge at 30 watts from a single port, or split that power between its two USB-C ports, without sacrificing AC outlets. It performed as advertised in our tests, and like any good wall outlet, it's UL listed and compliant with the National Electrical Code, so it's as safe as a standard outlet when installed correctly. Leviton is a leading manufacturer of electrical fixtures, and its products are widely available if you're trying to get a project done quickly. The T5835 has the same USB ports, but its AC outlets deliver 20 amps for power-hungry tools, gadgets, and appliances. Not sure which model to get? If you're replacing a 15-amp outlet, buy the T5635; if you're replacing a 20-amp outlet, choose the T5835.
Also great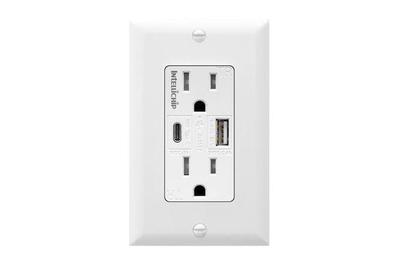 Topgreener TU21558AC
The best outlet with both USB-A and USB-C ports
This is the only outlet that can charge both a USB-A device and a newer USB-C device at full speeds simultaneously. It's a versatile way to upgrade outlets around your home.
If you want to save a few bucks and don't need the highest charging speeds (maybe you have an older phone, or just want to power an Alexa device), we like the Topgreener TU21558AC. Both its USB-A and USB-C ports go as fast as those on any comparable plug-in wall charger—12 watts and 15 watts, respectively—and unlike all the other similar options we tried, it won't slow down even if you use the two ports at the same time. USB-A is an older and slower technology, and USB-C is rapidly replacing it, so we think investing a little more in a dual–USB-C setup makes sense now. But USB-A will continue to work perfectly well as long as you have the necessary cables. Topgreener's included, interchangeable faceplates are a nice bonus, if you're more concerned about aesthetics than speed.
Also great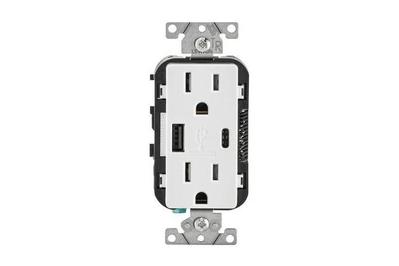 Leviton T5633
An affordable USB-A and USB-C charger available at big-box stores
The USB-C port on this A+C outlet charges just a little slower than the one on the Topgreener TU21558AC, but unlike the Topgreener it's available at most big-box hardware stores.
Buying Options
$30
from
Amazon
May be out of stock
If you want USB-A and USB-C ports, and the Topgreener TU21558AC is out of stock or you're buying your outlets at a big-box hardware store, get the Leviton T5633 instead. The USB ports on this model performed almost as well as those on the Topgreener, while the USB-C port tested about 10% slower—but that won't make much difference when you're charging most smartphones or tablets. As a bonus, the T5633 comes with multiple faceplates, allowing you to change up its look.
source: hafta-ichi.com/wirecutter/