Join Hafta-Ichi to find out the article "This Tiny Gallium Nitride Laptop Charger Is Great (But Don't Buy It Yet)"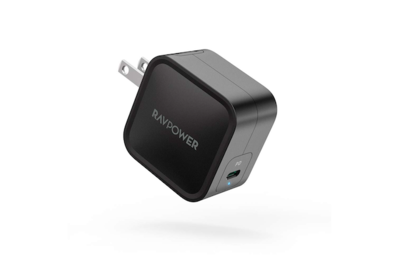 RAVPower 61W PD 3.0 GaN Wall Charger (RP-PC112)
As small as it gets
This charger is still too expensive to be a main pick, but it feels so much smaller than other chargers that our writer got "a bit giddy."
Buying Options
*At the time of publishing, the price was $50.
The RP-PC112 utilizes both USB-C and gallium nitride (GaN)—a semiconductor that can do the same job as silicon in even smaller chips—and the result is a power brick small enough to fit into a pocket or easily carry in a clutch. These two relatively new technologies are making laptop chargers a heck of a lot smaller and cheaper, with RAVPower's model being the prime example.
Look at it, and you might think, "Yeah, I guess it's pretty small," but holding it in your hand makes it clear just how tiny this thing is. I've tested hundreds of chargers over the past decade, including pretty much every USB-C laptop charger from every reputable company out there. It's truly shocking that this charger, measuring 2 by 2 inches and just over an inch thick, is just as powerful as Apple's 61W USB-C Power Adapter, which is more than twice as wide and tall and sells for at least $20 more. Neither power brick comes with a cable, but you can pick up our favorite USB-C charging cable for only a few dollars more if you need it.
The RAVPower also charges the way it should. We ran the RP-PC112 through our standard testing procedures, which include running Total Phase's USB Power Delivery Analyzer and its Data Center Software. This test tells us the power rates the chargers make available to connected devices, the actual power output observed when they're connected, and whether any errors occur during charging. The RAVPower passed without issue.
As thrillingly tiny as the RAVPower is, plenty of other options come cheaper (and not much bigger). Our top recommendation for the best laptop charger, the Nekteck 60W Type-C Wall Charger, is admittedly bigger than the RAVPower, but not by much. It's only 0.9 inch longer and 0.5 inch taller, it comes with a great USB-C cable, and it still costs only about half of what the RP-PC112 does. Even RAVPower's own 61W Type C PD 3.0 Power Adapter (RP-PC105) is a better value. That charger is about 30 percent larger in length and height than the newer gallium nitride RP-PC112, but it also includes a 12-watt USB-A port for charging your phone, for about $10 less. If you're not that concerned about your charger's dimensions, those other models are the ones to get, but again, if size is your primary concern, the newest RAVPower beats everything.
Anker also has a laptop-ready GaN charger, the PowerPort Atom III 60W. It's an unimpressive 0.2 inch narrower and 0.1 inch shorter, and it's 0.7 ounce lighter than the equally powerful, non-GaN PowerPort Speed 1. Both models are significantly larger than the new RAVPower, but not that much less expensive.
If you value size, the RP-PC112 is inexpensive enough (especially at its early promotional sale prices) that it's a good buy. Maybe your bag is already spilling over with accessories, and you need every spare square inch. Maybe you're dealing with loose outlets, and you want to put as little weight on them as possible. If you need The Smallest, you can get it—for a premium price—with a GaN charger. For everyone else, we recommend sticking with the Nekteck and our other main charger picks for now. Chargers will continue to get smaller and cheaper, so it's very possible that by this time next year, you'll be able to buy something the size of RAVPower's laptop charger for half the price.
Source: NY Times – Wirecutter
Keyword: This Tiny Gallium Nitride Laptop Charger Is Great (But Don't Buy It Yet)