Join Hafta-Ichi to find out the article "UK coronavirus live: crisis to cost £317bn this year, says report; Sunak set to unveil new jobs plan | Politics"
Good morning. Rishi Sunak is today announcing what he calls his winter economy plan, which will explain what will be done to support jobs and businesses when the furlough scheme runs out at the end of next month. He has also cancelled the budget due in the autumn (by my count, the fourth time the Boris Johnson government has postponed a budget) and today's announcement is being seen as budget-like in its importance. In fact, it will probably turned out to be much bigger. In a normal year, a budget is seen as far-reaching if it cuts or increases spending by £5bn or more. The furlough scheme, announced outside a budget, has cost the Treasury £39bn.
But that's just a fraction of the overall cost of the Covid crisis to the exchequer. Today the Institute for Government thinktank has published a report saying "Covid-19 is already likely to cost the UK government £317bn – in increased public borrowing – in 2020/21 alone." This chart explains where those numbers come from.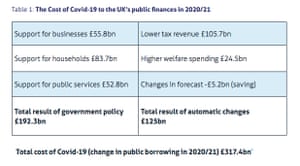 Here is our preview of the Sunak statement by Larry Elliott and Richard Partington.
Here is the agenda for the day.
10.10am: Suella Braverman, the attorney general, takes questions in the Commons.
Morning: The latest weekly NHS Test and Trace performance statistics are published.
After 12pm: Rishi Sunak, the chancellor, delivers his Commons statement on fresh support for jobs and businesses.
12.20pm: Nicola Sturgeon takes first minister's questions in the Scottish parliament.
Politics Live has been doubling up as the UK coronavirus live blog for some time and, given the way the Covid crisis eclipses everything, this will continue for the foreseeable future. We will be covering non-Covid political stories too, but today we will be largely focusing on Sunak's statement, and the reaction to it.
Here is my colleague Graeme Wearden's business live blog. Graeme will be contributing here later as we cover the Sunak announcement.
Here is our global coronavirus live blog.
I try to monitor the comments below the line (BTL) but it is impossible to read them all. If you have a direct question, do include "Andrew" in it somewhere and I'm more likely to find it. I do try to answer questions, and if they are of general interest, I will post the question and reply above the line (ATL), although I can't promise to do this for everyone.
If you want to attract my attention quickly, it is probably better to use Twitter. I'm on @AndrewSparrow.
Source: The Guardian
Keyword: UK coronavirus live: crisis to cost £317bn this year, says report; Sunak set to unveil new jobs plan | Politics