Join Hafta-Ichi to Research the article "UK Covid live: excess deaths in mid-January in England and Wales at 40% above five-year average, says ONS | Politics"
Good morning. Ministers have repeatedly – and often correctly – been accused of ignoring scientific advice about coronavirus, and there is another claim to that effect this morning. But government sources are pushing back. The reality – as far as it can be discerned at this point – is not straightforward.
The claim is in a story leading the Times (paywall) by its deputy political editor, Steven Swinford. It starts: "Government scientists had warned that only mandatory hotel quarantine for all travellers would prevent new coronavirus strains from arriving in the country before it emerged that the South African variant was spreading in Britain."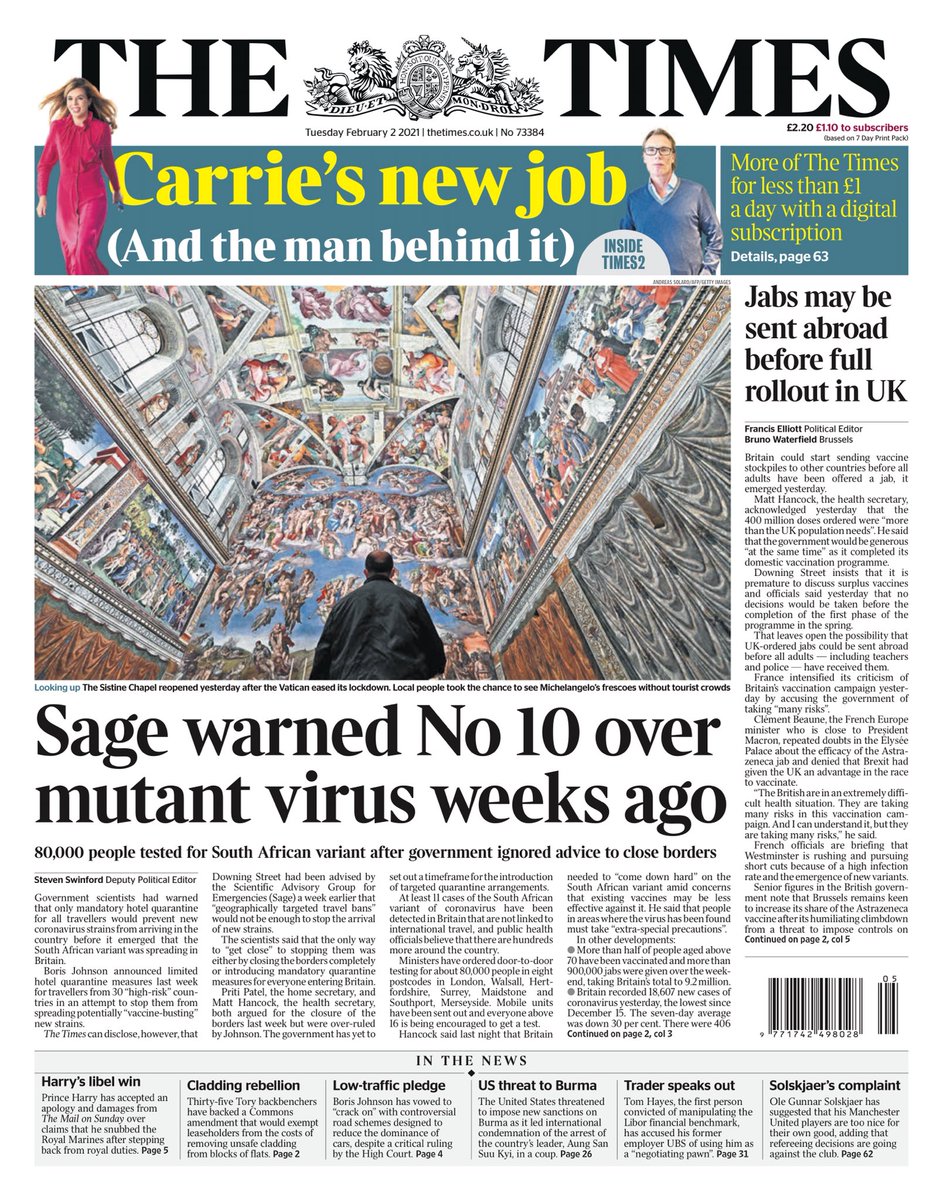 Labour, which last night won a Commons vote 262-0 in support of its policy calling for all arrivals to the UK to be subject to hotel quarantine, described the report as damning. In a statement Nick Thomas-Symonds, the shadow home secretary, said:



These revelations are incredibly serious. Ministers have knowingly left the UK border open and potentially exposed people to new strains of the virus, in direct contradiction of their own government scientists' advice.

This puts the gains of the vaccine at risk, with disastrous consequences for people's lives.
But, as the BBC's Adam Fleming reports, the government has this morning been hitting back, saying that it is not true that Boris Johnson ignored a recommendation from Sage to close the borders.
This sounds rather like a broad denial of the story. But on closer examination, it isn't, for reasons that become clear if you examine the story carefully.
Swinford quotes excerpts from minutes of a meeting of Sage, the government's Scientific Advisory Group for Emergencies, held on 21 January and none of these quotes are being contested by No 10. And, crucially, his story does not say that Sage advised Boris Johnson to shut the border last month. This is what it does say about the Sage advice.



Sage met on January 21 and discussed how to reduce the importation of mutant strains of coronavirus. Minutes from the meeting state: "The emergence of new variants of concern around the world presents a rationale for attempting to reduce importation of even small numbers of infectious cases.

"This rationale will strengthen if new variants emerge that are capable of immune escape. Measures would be likely to delay importation of these variants rather than prevent them altogether."

The scientists state that stopping the arrival of new variants will be "most important" when the prevalence of the virus is low in Britain.

"No intervention, other than a complete, pre-emptive closure of borders, or the mandatory quarantine of all visitors upon arrival in designated facilities, irrespective of testing history, can get close to fully preventing the importation of new cases or new variants," the minutes say.

"Reactive, geographically targeted travel bans cannot be relied upon to stop importation of new variants due to the lag between the emergence and identification of variants of concern, as well as the potential for indirect travel via a third country."
Without having read the full minutes (which will get published eventually), it is hard to be sure, but the sentence about how only a "complete, pre-emptive closure of borders" can "get close" to preventing the importation of new variants does not sound like a firm recommendation that this should happen; it sounds more like a warning that, because border controls are never fail-safe, other measures are important.
The key point, perhaps, is that Sage said "geographically targeted travel bans" would not stop new variants arriving in the UK. This is embarrassing because "geographically targeted travel bans" are currently the main focus of government border policy.
We will be hearing more on this as the day goes on. Here is the agenda.
9.30am: Boris Johnson chairs a virtual meeting of cabinet.
9.30am: The ONS publishes its weekly death figures for England and Wales.
11.30am: The all-party parliamentary group on coronavirus takes evidence from academics and campaigners on Covid transmission in schools.
12pm: The Department for Education publishes its latest school attendance figures.
12.30pm: Downing Street holds its daily lobby briefing.
12.30pm: Michael Gove, the Cabinet Office minister, responds to a Commons urgent question on the Northern Ireland protocol.
Around 1.30pm: Matt Hancock, the health secretary, makes a statement to MPs about coronavirus.
After 2pm: Nicola Sturgeon, Scotland's first minister, makes a statement to the Scottish parliament on her government's review of lockdown.
Politics Live is now doubling up as the UK coronavirus live blog and, given the way the Covid crisis eclipses everything, this will continue for the foreseeable future. But we will be covering non-Covid political stories too, and when they seem more important or more interesting, they will take precedence.
Here is our global coronavirus live blog.
I try to monitor the comments below the line (BTL) but it is impossible to read them all. If you have a direct question, do include "Andrew" in it somewhere and I'm more likely to find it. I do try to answer questions, and if they are of general interest, I will post the question and reply above the line (ATL), although I can't promise to do this for everyone.
If you want to attract my attention quickly, it is probably better to use Twitter. I'm on @AndrewSparrow.
Hafta Ichi
Source: The Guardian
Keyword: UK Covid live: excess deaths in mid-January in England and Wales at 40% above five-year average, says ONS | Politics