Join Hafta-Ichi to Research the article "UK Covid live: Johnson wrong to say he did everything he could to save lives, says Labour | Politics"
Good morning. Yesterday, as the number of UK Covid deaths passed 100,000 on the government's headline measure (on another measure it reached this threshold a week ago), Boris Johnson said the government had done everything it could to reduce the loss of life. He said:



What I can tell you is that we truly did everything we could, and continue to do everything that we can, to minimise loss of life and to minimise suffering in what has been a very, very difficult stage, and a very, very difficult crisis for our country.
Today Labour said he was wrong. This is what Jonathan Ashworth, the shadow health secretary, told the Today programme this morning:



It's just horrendous on every front … I'm sorry, I'm really sorry, I just do not believe that Boris Johnson did everything we could, I just can't accept that.

We all accept these are challenging times for any government, this is a virus which has swept across the world with speed and severity and it continues to spread ferociously … But monumental mistakes have been made, we have had a litany of errors in the last 12 months, and he didn't have to make these mistakes.
This debate will continue through the day – and doubtless for weeks, months and years to come.
Here is the agenda for the day.
9.30am: The ONS publishes a report on the characteristics of people testing positive for Covid, and a report on Covid and students.
12pm: Boris Johnson faces Sir Keir Starmer at PMQs.
12.15pm: Dr Frank Atherton, chief medical officer for Wales, and Dr Rob Orford, chief scientific adviser for health, hold a coronavirus briefing.
12.15pm: Nicola Sturgeon, Scotland's first minister, holds a coronavirus briefing.
After 1.15pm: Matt Hancock, the health secretary, makes a statement to MPs about coronavirus.
After 2pm: Priti Patel, the home secretary, makes a statement to MPs about plans for a hotel quarantine system targeted at arrivals from high-risk countries.
4.30pm: Brandon Lewis, the Northern Ireland secretary, gives evidence to the Commons Northern Ireland affairs committee.
Politics Live is now doubling up as the UK coronavirus live blog and, given the way the Covid crisis eclipses everything, this will continue for the foreseeable future. But we will be covering non-Covid political stories too, and when they seem more important or more interesting, they will take precedence.
Here is our global coronavirus live blog.
I try to monitor the comments below the line (BTL) but it is impossible to read them all. If you have a direct question, do include "Andrew" in it somewhere and I'm more likely to find it. I do try to answer questions, and if they are of general interest, I will post the question and reply above the line (ATL), although I can't promise to do this for everyone.
If you want to attract my attention quickly, it is probably better to use Twitter. I'm on @AndrewSparrow.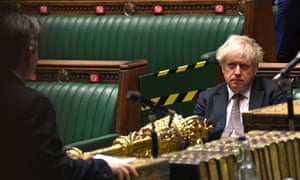 Hafta Ichi
Source: The Guardian
Keyword: UK Covid live: Johnson wrong to say he did everything he could to save lives, says Labour | Politics