Join Hafta-Ichi to Research the article "Voters think Starmer would be better PM than Johnson, poll suggests – UK politics live | Politics"
Good morning. It is the second day of the Conservative party's online conference and, as usual on conference Sunday, Boris Johnson is being interviewed by Andrew Marr on the BBC. The Andrew Marr Show starts at 9am and Johnson should be on just after 9.30am.
It is the first Tory conference since Johnson won an 80-seat majority at the general election and, in a normal political cycle, this ought to be a moment of triumphalism. But 2020 has been anything but normal and instead, as Michael Savage reports in the Observer, instead the conference is taking place with Conservatives increasingly concerned about Johnson's lacklustre performance as prime minister and party leader.
For a start, Johnson is now coming second bottom in the ConservativeHome website's monthly survey of how party members rate the performance of members of the cabinet. Only Gavin Williamson, the education secretary, is deemed to be doing worse. It's only a survey, of course, but ConservativeHome party members' survey as seen as a reliable guide to opinion in the party, because their findings normally match the results of internal party elections quite closely.
As the ConservativeHome editor Paul Goodman explains in his write-up, it is not unprecedented for a Tory PM to get a negative rating in this table – Theresa May did much worse at one point – but nevertheless "it's a rotten springboard from which to vault into party conference".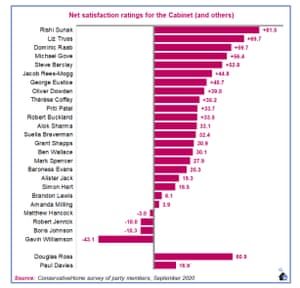 And there is worse news today in the Mail on Sunday, which has published details from an extensive survey, using polling and focus groups, conducted by Lord Ashcroft, the former Conservative deputy party chairman who is now a polling specialist.
Here is an extract from Glen Owen's write-up.



A total of 37 per cent of voters think that Sir Keir would make the best prime minister, ahead of Mr Johnson on 30 per cent.

And when asked to choose between the parties under their current leaders, 53 per cent opt for Labour, with 47 per cent for the Conservatives.

The research also suggests that support for the Tories in 'Red Wall' seats where Labour voters switched to the Conservatives in their thousands to hand an 80-seat majority to Mr Johnson last year is also reasonably soft, with 31 per cent saying they would switch back to Labour, while 69 per cent would stick with the Tories.

No 10 will be unsettled by Lord Ashcroft's finding that only 27 per cent believe Mr Johnson is doing a good job, while 21 per cent think he would be a good PM 'under different circumstances' and 39 per cent think he would not be a good premier whatever the situation.
And here is an extract from Lord Ashcroft's own account of his findings. His full 23-page report is here (pdf).



While 27 per cent in my poll said he was doing a good job, a further one in five said he could be a good PM under different circumstances but was not the kind of leader we needed at the moment. Some wonder whether he has really recovered from his own encounter with Covid. In my poll, the words most often chosen to describe him were "out of his depth" and "incompetent."
As ever, though, with polling, it is important to keep the findings in perspective. The Conservative party has been consistently ahead of Labour in opinion polls all this year. Its average lead has been falling (from 16 points on average in January, to three points on average in September, according to an analysis by the psephologist David Cowling), but only one poll so far has put Labour ahead. Governing parties often fall a long way behind the opposition, and still go on to win.
Here is the agenda for the day.
8.30am: Brandon Lewis, the Northern Ireland secretary, and Douglas Ross, the Scottish Conservative leader, are interviewed on Sky's Sophy Ridge on Sunday.
9am: Boris Johnson is interviewed on the BBC's Andrew Marr Show. Jonathan Ashworth, the shadow health secretary, is also appearing.
1.30pm: Robert Jenrick, the communities secretary, takes part in a Q&A at the online Conservative conference.
2pm: Matt Hancock, the health secretary, speaks at the conference.
3pm: Priti Patel, the home secretary, speaks at the conference.
4pm: Robert Buckland, the justice secretary, speaks at the conference.
I will be mostly focusing on the Conservative party conference today, although wider UK coronavirus developments will also get covered. Here is our global coronavirus live blog.
I try to monitor the comments below the line (BTL) but it is impossible to read them all. If you have a direct question, do include "Andrew" in it somewhere and I'm more likely to find it. I do try to answer questions, and if they are of general interest, I will post the question and reply above the line (ATL), although I can't promise to do this for everyone.
If you want to attract my attention quickly, it is probably better to use Twitter. I'm on @AndrewSparrow.
Hafta Ichi
Source: The Guardian
Keyword: Voters think Starmer would be better PM than Johnson, poll suggests – UK politics live | Politics