Join Hafta-Ichi to find out the article "We Are Not Such Things by Justine van der Leun review – the shocking murder of Amy Biehl | Autobiography and memoir"
On 25 August 1993, eight months before South Africa held its first fully democratic elections, a 26-year-old white American Fulbright scholar at the University of the Western Cape called Amy Biehl (right) was murdered by a group of young black men in the township of Gugulethu outside Cape Town. Biehl, who was about to return to the US after nearly a year in South Africa, was giving two black fellow students a lift home. An ANC supporter and activist committed to bringing about social change, she had been researching the rights of non-white women in an emerging democracy, and had been to the townships several times, to visit friends and conduct interviews.
Although the entire country seemed poised for civil war in the tense and violent months before the election, Biehl did not think twice about driving into Gugulethu. As her battered Mazda (bearing a bumper sticker reading "Our Land Needs Peace") pulled into the township, it intersected with a restless group of local men and boys, who were attempting to overturn and loot a truck. According to accounts they would later repeat to various journalists and commissions, the young men had just left a political rally for the militant Pan Africanist Congress of Azania, or the PAC, and were pumped up by the organisation's militant exhortations. On spotting Biehl at the wheel of her car, the mob – watched by a crowd of township residents – attacked the vehicle with bricks, shattering the windshield and cracking Biehl's skull. When she tried to run for safety, they hunted her down, chanting "One settler, one bullet" and "Africa for Africans", before stoning and knifing her to death.
The murder became international news. As Justine van der Leun remarks in this compelling account of the killing and its aftermath, quite apart from the dramatically brutal nature of the attack, it had been simply been "so odd, the fury so misplaced, and the choice of victim so ironic". Far from being a member of the white South African ruling class, Biehl was a foreigner with impeccable liberal credentials, a member of the ANC-aligned National Women's Coalition, a comrade. As a political act, if that was what it was, the killing of Biehl was a spectacular own goal.
There were stranger developments to come. For all the spectators standing by that afternoon in Gugulethu – Van der Leun, quoting police sources, estimates that the number topped 200 – no witnesses came forward to testify. Four men were arrested on the basis of a tip-off from a single source, who remains anonymous to this day. They were duly tried and convicted of Biehl's murder and were sentenced to 18 years in prison. In 1997, however, they applied for amnesty at the Truth and Reconciliation Commission, dryly characterised by Van der Leun as "South Africa's experiment in restorative justice". Chaired by Archbishop Desmond Tutu, the commission "offered release and a clean slate to those who, upon taking responsibility, fully and honestly, for their apartheid-era crimes, could prove that their misdeeds were politically motivated".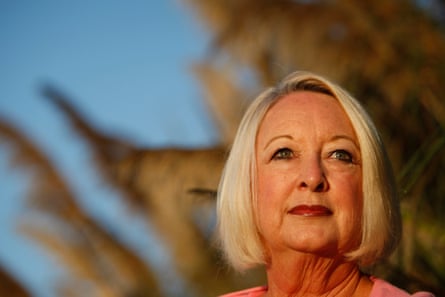 Amy's mother, Linda Biehl.

Photograph: Allen J Schaben/LA Times via Getty Images
Enter Peter and Linda Biehl, Amy's parents, a well-heeled Californian couple who had been welcomed to South Africa by the ANC following her death and introduced to the party's dignitaries, including Nelson Mandela. Deciding that their daughter would have wanted them to respect the processes of this new democracy, they did not (unlike many families of victims) oppose amnesty for her killers. In the wake of Amy's murder the Biehls had set up a charitable foundation in her memory to help develop Cape Town's townships. The killers were released from prison in 1998, after serving between three and five years. One, Vusumzi Ntamo, a young man with learning difficulties who found it impossible to hold down a job, disappeared from the map until unearthed by Van der Leun. A second, Mongezi Manqina, was later convicted for the rape of a neighbour who had a mental health condition. The remaining two, Easy Nofemela and Ntobeko Peni, approached the Biehls to ask for their forgiveness, and were not only employed by the Amy Biehl Foundation but became personal friends of Linda and Peter, visiting them in America, appearing arm-in-arm with them at press conferences, and referring to them by the honorific titles of "grandmother" and "grandfather". In a bizarre coda to these events, while writing her book, Van der Leun received a legal warning on behalf of Linda Biehl and Ntobeko Peni warning her to cease and desist, on the grounds that "her continued attempts to exploit Mr Peni's participation in the story have caused him much harm".
As Van der Leun notes, the emotional and political stakes in the Biehl story are high. In the "New South Africa", still battling to achieve integration, it remains an unchallenged narrative of reconciliation: "black South Africans, loving by nature but distorted into rampage by apartheid, who had been reformed and redeemed through the grace of an inspirational if puzzling pair of good-looking white Americans". The difficulty is that the motivations, and indeed the very identities of Biehl's murderers, remain less than clear.
Van der Leun's is the first book to appear on the Biehl case [see footnote]. She is herself an American who has lived in South Africa for some time, and has a resident's wry familiarity with the jangling contradictions of a country in which shopping malls sit side by side with shantytowns, while retaining an outsider's unsentimental perspective on its ongoing racial tensions, and a bracing scepticism about the rhetoric of liberation. In particular, pace the TRC's remit to pardon political killings, Van der Leun is aware that "the distinction between pure-hearted freedom fighter and local street gangster was not always so delineated in South Africa".
Having spent four years interviewing the participants in this gruesome tale, in which tropes of casual racial hatred still surface at shocking moments – the mortally wounded Biehl looked, one witness recalls, "like a Barbie covered in ketchup" – and after following in the Biehls' footsteps by befriending Nofemela, Van der Leun arrives at the startling conclusion that three of the men convicted for Biehl's death, including Nofemela, were very probably not directly responsible. Was the murder a legitimately politically motivated act, or an arbitrary crime inspired by iqungu (isiXhosa for "bloodlust")? Was she an international liberation hero or the chance victim of a bored and angry crowd? Van der Leun's hard-nosed reconstruction of an alternative narrative for the events of that afternoon raises troubling, and still pertinent, questions about the deals that sometimes have to be struck by former enemies when faced with the exigencies of nation-building.
• To order We Are Not Such Things for £12.29 (RRP £14.99) go to bookshop.hafta-ichi.com or call 0330 333 6846. Free UK p&p over £10, online orders only. Phone orders min p&p of £1.99.
• This footnote was appended on 5 August 2016: We Are Not Such Things may be the first non-fiction account of the case published as a book, but Sindiwe Magona's novel Mother to Mother, which was published in 1998 and takes the form of a letter to Biehl's mother, is also based on the case.
Source: The Guardian
Keyword: We Are Not Such Things by Justine van der Leun review – the shocking murder of Amy Biehl | Autobiography and memoir